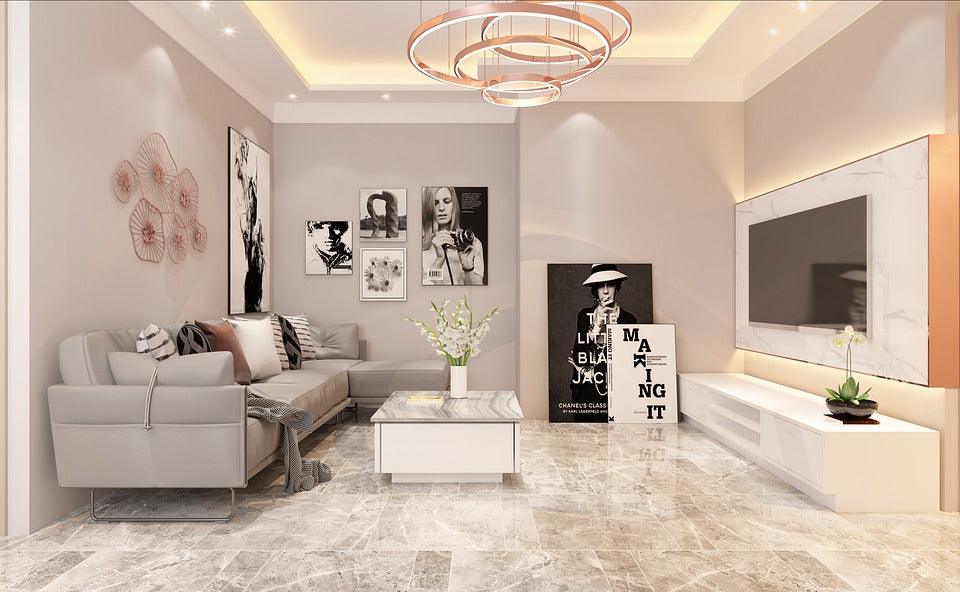 Top 7 chandeliers for apartments
The room will be illuminated to the fullest extent possible by these enormous lights. Of course, we're referring to chandeliers. Chandelier designs for living rooms are a stunning option. And while conventional cutting crystals might spring instantly to mind, there is indeed a world of variety, from the traditional to the futuristic, when placing this masterpiece in a lighting design. 
Chandeliers, which are primarily branching lights mounted on the wall, come in a variety of styles, proportions, and material combinations, making it feasible to utilize one of these ceiling lights to match any home interior. Modern chandeliers are smaller and less fussy, which makes them perfect for apartments with low ceilings.
These seven designs are easy to incorporate into your modern home effortlessly.
1. A crystal bunch
A crystal bunch can be used as a centrepiece in a living room or dining room. For velvet and marble top tables, this item's crystals will add a glossy sheen. Further, try incorporating a bunch of mirrors to substantially increase its sheen and brilliance. As a guest room, the living room is always on exhibit to the outside world. Moreover, there's no better spot for an eye-catching light fixture than in a chandelier.
2. Metal and Milky Globe Chandelier
This stunning chandelier, which features ten milky orbs and black metallic frameworks, provides the perfect finish to your home's decor. It's a beautiful and classy effect that may be achieved with the white milky globes. The metal bars with their ornate golden designs add a nice finishing touch of elegance aesthetic. 
The design is simple to construct and brightens up your surroundings with its eye-catching style, which is built to withstand the test of time. The result is a fresh, summery look for your home that is sure to impress your visitors and make them envious of your impeccable sense of style.
You can't go wrong with this eye-catching chandelier in your home. When it comes to lighting, this chandelier is a surefire way to make a room look more elegant. It may be used in every room of the house, from the living room to the doorway, and it always adds a personal touch.
3. Contemporary LED chandelier
Modernity personified, the Ankur Geom Hexagon 3 Ring Contemporary LED Chandelier is perfect for a chic, modern room. It's beautifully built from the finest materials and will last for years in your home! Your living room will benefit from its unique character, regardless of where you place it.
4. Metal and glass chandelier
The superbly created model of this artistic chandelier was made to improve the appearance of a contemporary interior. Excellent production materials make the light design exceptionally robust and easy to handle. You can use the design in your apartment that needs a current aesthetic. Bring this lamp into your home for a stylish look that shows your personality.
5. Vintage Style
As a centre of attention in the living room's heart, this simple crystal piece looks stunning when matched with different shades of reflective windows and glossy oak surfaces. Complete the look with some classic paintings.
6. Candlestand
The phrase "candle holder" aptly describes this artwork, which appears like a chandelier in every way. No matter how beautiful it is or how well-balanced it is, this piece will not illuminate every area of the space. As a result, it creates a dimmer atmosphere that is reflective of the environment it inhabits. 
This colour works well with rust, dark reds, and rich browns. The artistic spirit of the constellations is extremely intriguing. Make your living area a little more magical with a starry-themed chandelier. It's possible to create the feeling of a starry summer night by using multi-tiered chandeliers with candle-like stems.
7. Chandeliers with curves
This sculpture is best suited to houses that incorporate a variety of eras. This chandelier has a classic look, yet it may easily be paired with contemporary furnishings and open floor plans. 
Chandeliers come in a variety of styles, so you may choose one that complements your home's decor or one that stands out from the rest. In a contemporary area, you may prefer a crystal chandelier to a huge bell shade. The most important thing to remember when choosing a chandelier is to pick one that complements the surrounding environment rather than detracts from it.
The Perfect Chandelier: Three Things to Keep in Mind
1. The right place to put a chandelier
The chandelier should be placed as centrally as feasible in the interior space. 
Aesthetic: Beautiful from any aspect, a well-designed chandelier is a sight to behold. The chandelier should be placed in the middle of the room so that you can see it from all angles.
Ambient Light: Light from a central location is diffused evenly.
Symmetry: As the only other hanging thing, a chandelier should be put in the middle of the room to keep the room looking balanced.
2. The maximum height to which it can be installed
Chandeliers in dining rooms should hang around 30 inches above the table surface to allow diners to see one another and avoid eye strain from glare. To compensate for a higher ceiling, add around 3 inches to your measurements.
Chandeliers should always be installed in rooms with a clear line of sight and a sufficient amount of space for safe clearance. In the end, a light fixture is less appealing if it gets in the way or gives you a headache.
3. Chandelier Illumination
Ambient lighting for dining rooms, or any room, is influenced by the square footage of the space. A 100-square-foot dining area requires between 300 and 400 total lumens of illumination. As a result, you should think about the chandelier's lumen output before making your decision. A chandelier might not be the only source of ambient lighting in a room, but it's usually the most important one for getting the best layering of light.
It's critical to have adequate lighting in the living room, as it's one of the most frequently utilized rooms in the average house these days. When purchasing a chandelier, think about the material's endurance and the style features you choose. Living room chandeliers that use LED bulbs are long-lasting and low-energy. If you want to be wowed every day, make sure that the chandelier in your living room suits your style and personality.