Light up your corners: Your guide to lighting up nooks in different rooms
The use of lighting is an integral part of interior design, as it establishes the mood and defines the atmosphere of a room. Good illumination also contributes to a better ambience. Each space in the house serves a different purpose, so picking out the appropriate light fixture is significant.
The best homes have layers of lighting in different nooks and corners of a space. Therefore, it is essential to study what kind of light fixture goes well with your area when it comes to lighting. Each light fixture has its unique purpose, and using it wisely can light up the corners of your house while making it appear aesthetically pleasing. 
Lighting that provides the essential ambient light for your room should never be confused with task lighting. While selecting the task light, one must ensure that the task light complements the rest of the lighting in the room. Layering the light properly in each corner of your house can make a huge difference.
You can have a lot of delight finding the proper lighting to brighten the corners of your room. Below are some intelligent ways to add light to any dark and murky room.
Pendant Lights
Pendant lights are one of the most versatile light fixtures. These lights can lift and enhance the beauty of your space while lighting just the right corners of your room. These lights are suspended and look stunning in the corners of a stretch. These Nordic Slim Cone Metal Pendant Lights would look great near your couch, desk or sofa. These lights remain the best pick if you want to light up your vanity. In addition, pendant lights are ideal for reading nooks and sitting areas. These lights can also be used as a substitute for table lamps if you do not have a side table.
Pendant lights can instantly light up the nooks and corners of your room while making a space look elegant and decorative.
Wall sconces
You can add character and atmosphere to your home's interior and exterior with wall sconces. Light from these wall lights helps create a more inviting atmosphere in your home while illuminating the fascinating features of nooks and corners. 
Lighting fixtures designed to direct light down into the ground are called downlight sconces. This type of lighting can contribute to creating a warm and welcoming environment. In addition, they are ideal for making larger rooms feel more intimate because they offer a more conservative amount of light.
Wall sconces can bring a massive change to the corners of your space as you get to decide if you want a downlight wall sconce or an uplight one. This stunning Globe Wall Sconce is perfect to layer light in the nooks of a room.
Floor Lamps
One of the most critical light elements in a house is the floor lamp. Along with providing light, it contributes to the design of a room. Before selecting a floor lamp, make sure you understand what you need from it. Depending on the lamp's position, it may serve mainly as a reading lamp or a light for performing other tasks. You can choose the height, the shade colour, type of bulb, and many other things based on this information. This classic Retro Floor Lamp is a great pick to brighten the nooks of your space.
LED lights
LED strip lights are one of the most trending lights as they enhance the appearance of the corners of space by lighting it beautifully. These stunning LED Strip Lights are perfect for bringing beauty to your room while lighting it.
Table lamps
Table lamps are very versatile light fixtures and make for a great option if you want to light up the nooks and corners of your rooms. Table lamps are best at their job when it comes to task lighting. They are the best pick if you want to light up the area near your bed.
This stunning Contemporary Metal Lamp would look beautiful in the corners of your space while evenly lighting the selected nook.
Nowadays, Rechargeable Wireless Bar Table Lamps are trending because of their sleek look and portability. If you are looking for small light fixtures for the corners, these wireless lamps are all you need to add to your cart.
Focus your lights on the wall or ceiling
Rather than simply aiming your lights everywhere, try illuminating the walls or ceiling. A soft light with minimal luminosity is preferable to a spotlight focused on a narrow floor section. 
A giant wall or floor mirror can amplify the brightness of natural light. One can achieve this look by placing a lamp beside a mirror. The room's lamp should emit ambient lighting so that it's not too bright when reflected from the mirror.
A string of fairy lights or a group of large candles will add just the right amount of light without overdoing the brightness of your room. Candles will not only give you the right amount of luminosity but will also add a great deal of charm and soothing effects. They will be perfect in your home as long as the light is warm and yellow, brightening the nooks and corners of your space while making it feel therapeutic and aesthetically pleasing.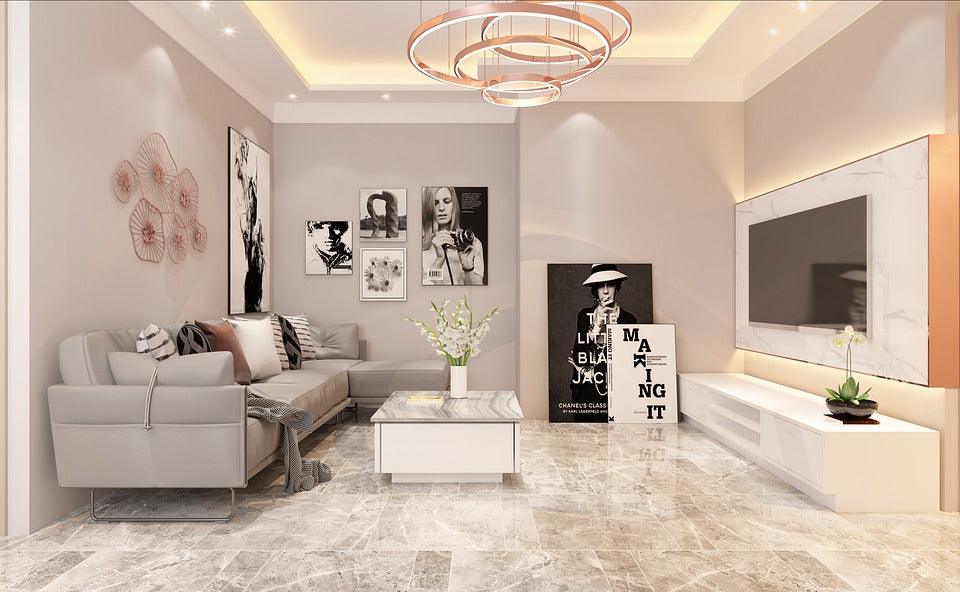 Top 7 chandeliers for apartments
The room will be illuminated to the fullest extent possible by these enormous lights. Of course, we're referring to chandeliers. Chandelier designs for living rooms are a stunning option. 
Read more