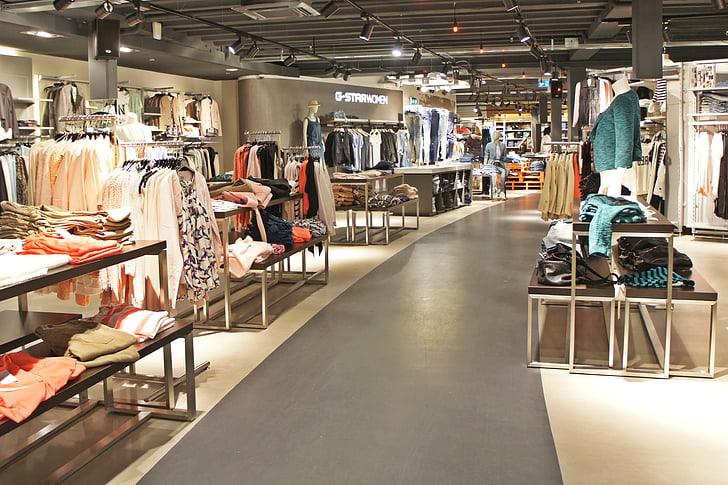 The Easiest Ways to Light Up an Apparel Store Effectively
It is undeniably evident that lighting plays such an important role in everyday affairs. Be it mood, the feel-good factor, the interior decor of your house or be it fashion- the effective use of light is prevalent in all spheres. 
The fashion industry is swamped with the play of lights, camera, colour combination and essence. Therefore, the use of good quality lighting is myriad. It is interesting to note how much of a difference lighting can make in changing little details of your store effectively. 
The Perfect Use of Different Kinds of Lighting at your Store
Since street shops are in constant competition with online stores, it is time to upgrade the lighting game. This makes it important to pay detailed attention to the interior design of the store. And of course, lighting wins it all! The play of lights can amazingly illuminate and give an elegant touch to your apparel store making the items and products at your store shine more and thus attractive to your customers. To gain a happy customer, all you need to do is upgrade the lighting at your apparel store. 
Here are a few tips on where and how to use different kinds of lighting and the easiest ways to light up your apparel store effectively:
Ambient lighting
Ambient lighting is all you need for your store to speak for itself. It sets the perfect tone or atmosphere of your store and defines all of the arrangements and brands there. According to the tone of the brand, warm and cosy or fun and edgy, ambient lighting does all the work to let the brand speak. Installing dimmable and smart lighting might add to your strategic organisation of the store. 
Decorative lighting: 
With decorative lighting, you have all the liberty to play it cool and loud. While focusing on the exact location highlighting the strengths and stars of your store, play around creatively with decorative lighting. A classic chandelier is all you need to install to highlight the best of the bests. Such fixtures purposefully add a stark contrast to the decor of the store making it effectively eye-catchy. Choose decorative lighting that goes with the internal decor of the store and watch for the sales to pick up.
Task lighting: 
Task lighting has an important role to play in your apparel store. From influencing customers' decision of buying to helping the staff focus on work, task lighting at your store can indeed work as a task enhancer. It has both internal and external rewards for your store. To increase consumer behaviour and increase the efficiency of your staff, task lighting can be used in effect.
Downlights: 
Downlights work to enhance and highlight a specific area of your store for decorative purposes. It gives an elite look to your store and thus works in your favour by adding an extra charm to the commodities inside. Downlights have versatile functionality in adding a touch of luxury and muted tones to your products. This light works incredibly well with both low and high ceilings and in spaces that do not get natural light.
Use of elegant and creative lighting to bring out the elegance of the apparel. 
It is interesting to note that the creative use of lighting can highlight particular pieces or parts of the store. It can be used as guide lights use as spotlights to highlight important parts of the store. Flexible lighting fixtures are important to set up essential areas of your apparel. Track mounted and LED luminaries to give your store 360° lighting that can be redirected to anywhere the decor of your apparel store requires. 
The Impact of Lighting on Season Colours
The season colours make a lot into the news. This takes sales to a next level which makes it even more important to organise your store better. The trick is to use good quality lighting to highlight the colour of the seasons. With the use of LEDs with high colour rendering index (CRI), customers will be able to choose the best from your stores. The glare-free LEDs provide your customers new confidence when they visualise clothes from your store and take a few of them to trial. 
The thin line of decision from the trial room to purchase is very much dependent on the lighting of the trial room. Lights that set warm and flattering lights can enhance the feel-good factor thus contributing to more purchasing behaviour. 
The Right Trick for a Strike of Sales 
It is fascinating to notice that the appropriate use of light can cause your sales to rise. With the right use of modern LED lighting, it is possible to achieve this with a little creative thinking. While designing and redecorating your store, consider visiting Ankur Lighting's store which has a collection of modern, elegant, dimmable, and smart lights; everything you require to sell more. 
Use Different Kinds of Lighting Intentionally to Create the Ambience of your Store
Where to use Decorative Lighting? 
Decorative lighting goes well with entrances or when kept as a centrepiece. Its main intent is to attract attention to a beautiful spot of your store to highlight and thus promote branding. This adds some fun and sophisticated element to the products at your store. 
Where to use Accent lighting? 
Accent lighting works best with specific displays or items both at the window and inside the store. It can either be track-mounted or used under shelves that are not naturally illuminated. 
Where does Ambient Lighting Work Best? 
Ambient lighting works best as filler fixtures. The decorative, accent or task lighting cannot sometimes suffice for all of the spaces that need to be highlighted. The selective use of ambient lighting in spaces where another lighting cannot function at its best. 
It all depends on the illusion you can create at your store that is as close as the actual product but with an enhanced version of it that can impact your customer's decisions towards purchase. You are to create a narrative that drives the decisions. Appropriate lighting is the tool to drive that narrative!