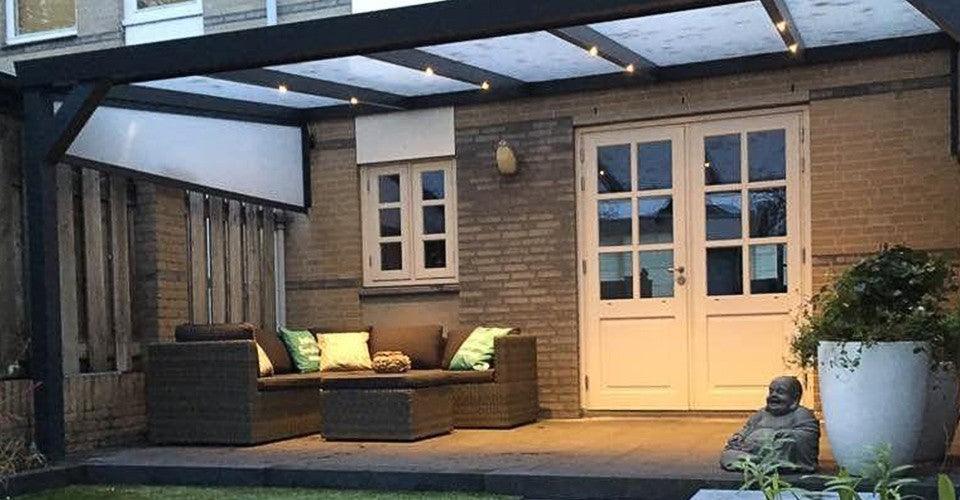 Terrace lighting essentials
The moment Covid-19 hit, we were stuck indoors, confined to the four walls of our house. In such a situation, the terrace was the one place that kept most of us sane. It enabled people to have their alone time, work in the fresh air, giving them privacy, and most importantly taking their minds off things. It felt like an escape from the monotonous life in lockdown. It became the new 'outdoor' for all while maintaining social distancing.
Even with ease in the restrictions, the terraces became the new gathering spot while pubs and restaurants remained closed. They are perfect for a date night, family gatherings, and drinks with friends. So if you're lucky enough to have a terrace, make sure you decorate it with the perfect lighting fixtures to keep your happy place bright and cheerful. 
Let's take a look at some of the terrace essentials to help you make the right choice. 
1. String lights
One thing you can never go wrong with is string lights. These are the number one choice for any outdoor lighting. These can be either cheap or fancy, depending on the customer. The great thing about string lights is the versatility that comes with them.
You can play around with the various lengths, shapes, and sizes of the bulb and different colors. They go from bright white lights to warm, soothing yellow ones. You can find some in unique colors like red and blue too! They never fail to add that delicate touch to the surroundings.
These are perfect to set the mood for a magical evening with your loved ones. They are often creatively used across wooden structures over seating areas as these magically light up the place by giving off a breathtaking look for a night of socializing.
Additionally, they can be utilized across a tree for a simple yet romantic date night. They bring out the tree's natural features and give the right amount of glow needed to make the space extra cozy.
The great thing about these lights is that the designs are available in a simple chic string of light bulbs to tiny glowing white lights for the Christmasy feel. There are so many options to play around with that no matter how you style it, the result will always be blissful!
Ankur String of pearls Chandeliers is the perfect choice to transform your space.
2. Outdoor LED lights
LEDs are the most popular lights as they are extremely energy efficient. They also have a longer lifespan compared to traditional bulbs. The quality of light they produce is of high quality. The dimmable options in these will help you set the brightness of the light according to your needs.
Other options available have features like waterproof, two-way lights, and bollard lights. These are simple yet classy lights that will give your terrace a nice finishing decorative touch.
It's a great way to illuminate the space at night time. You can integrate these lights in various forms to give your terrace a sleek and smart look. LED lamps can also be placed on the tea or dining table if you're going for a minimalist look.
Apart from being environmentally friendly, these are low maintenance requiring very few repairs and upgrades. 
Ankur LED lamps will surely give the finishing touch your terrace needs. 
3. Wall Sconces
Wall lights are known to add visual symmetry to gardens and terraces. They are an easy way to make the outdoors feel homey and cozy without occupying a lot of space or hindering your view. Depending on the type and brightness, they can either assist with light reading and writing, work as a base and provide the only source of lighting in the whole space, or can be used to draw attention to art, frames, or other decors.
Thus, when shopping for scones, it is important to keep the purpose in kind. Vintage/Antique ones may be given a brass finish while modern scones often have a glossy metal finish such as rose gold/ copper pleated ones. If you happen to have stonework decor on your terrace, these lights will provide a complimentary finish to it.
Ankur glass cylinder wall sconce will give the space a royal appearance. 
4. Downlights
Downlights are an innovative and smart way to light up a smaller space. Its compact design makes it easier to maintain. They're waterproof and are not delicate so they sustain harsh weather and need not be removed during rainy seasons.
They are used exclusively to create a warm welcoming environment. They give off a radiant effect on the wall's surface. You can even create a small garden space and install these along the lines to give a warm and relaxing effect. 
Ankur LED downlight will be a stellar investment to light your terrace entrance.
5. Pillar lights
Layering is the most important factor to consider when using multiple lighting fixtures. Pillar lights create beautiful highlights and shadows as they are meant for boundary walls. These can be used to light up porch and step areas. They add definition to the simple decor of the space. They are waterproof and water-resistant. These provide warmth and grace to your property. They provide minimal visual clutter but ample illumination for your terrace.  
Ankur pillar lights are amazing budget-friendly options. 
6. Burial recessed lights
These lights are ideal for all outdoor areas. These designs are unique as the source of the light is not visible, therefore it also becomes a softer lighting option for your terrace. The light is evenly spread out and these are often placed on the sidelines.
If you are a fan of minimal lighting, these are perfect for all your outdoor spaces. Since they have LEDs, they provide great performance and are resistant to extreme weather conditions.
They are a wonderful way to accent your terrace. They are available in a variety of shapes, styles, and fittings according to your needs. They can gracefully escalate the pathway of the terrace and leave a good impression. These are a great investment as with affordable prices, they provide ambient lighting. These will surely please your aesthetics with minimal effort. 
Ankur ground burial recessed lights will be an exquisite choice.