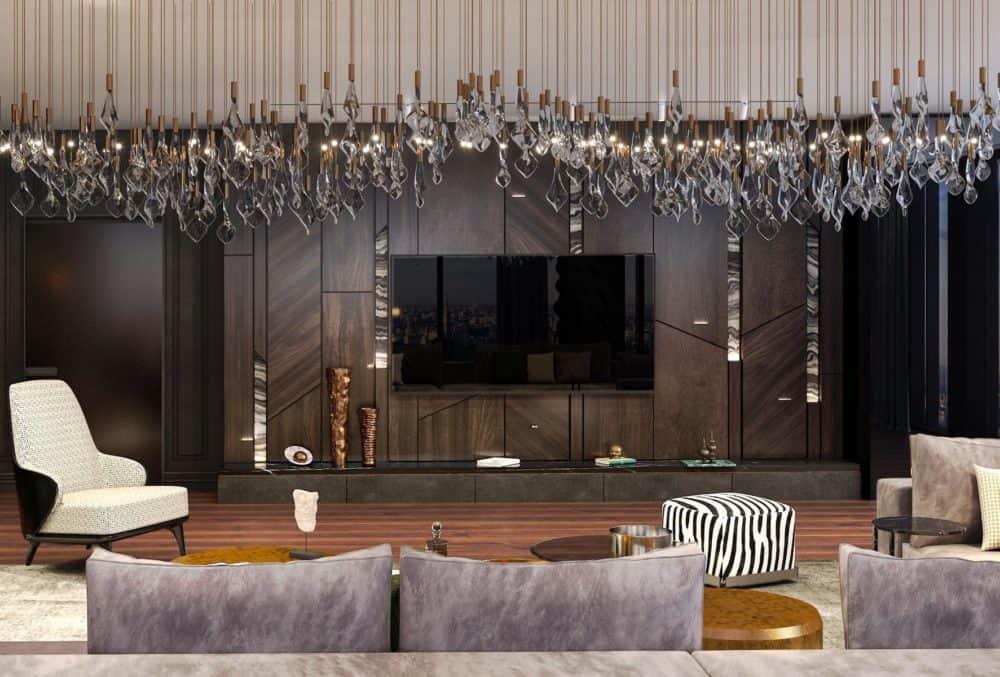 As we're about to enter another year of hope, mostly confined to our homes, spending time with family, working, and enjoying under one roof, it is important to keep your space as uplifting as you can, especially during these tough times.
A clean and well-lit workspace, restaurant, and shop do more than you think. Good lighting increases satisfaction among people, which in turn increases productivity. We can keep our spaces elegant and create a warm and bright ambience to help design a beautiful energy-efficient home. Let's take a look at the 2022 lighting trends so you can be the first ones to grab some stunning pieces!
Geometric Designs
Decorate your house with unique and distinctive geometric lighting that gives your home a relaxed and architectural feel. Some of the common designs are asymmetrical globes, rectangles, and cage chandeliers. The simple and boring light fixtures are for the last season. It's time to bring in new creative designs. You'll find some fantastic and unusual pieces.
The designs that would stand out are spikes, bollards, sputniks, and spiders! These designs can run as far as one's imagination allows them to. In case you have geometric pattern wallpapers, you need to hop on the geometric lighting fixtures bandwagon right away!
Ankur Manhattan 3 light Black Metal with White Glass Chandelier is the perfect choice for a geometric design.
Sphere shaped fixtures
Lights in the form of spheres have successfully established themselves as the trend for 2022. These lights could be built with translucent, transparent, or opaque materials. Products made with different combinations of these materials look very beautiful and original. These designs will give you exactly the kind of vibe you're looking for. Whether it's a golden globe for a fancy dinner or shimmery cascading crystals for a ballroom party, you can choose your aesthetic.
Ankur Brooklyn 4 Light Black Metal Sphere Cage Chandelier is the epitome of elegance when it comes to spherical fixtures.
Pendant Lighting
Pendant lamps are a combination of industrial and rustic design; when handmade, they are a perfect example of how traditional designs can be elevated to give a modern touch. These fixtures exhibit luxury and lavishness through an architectural touch. They give a royal look and fill the space with elegance and charm.
These designs brighten up the elegance of any room. The variations of these pendant lights are hanging, Dixon shaped, dome-shaped, wooden tops, rope hangings, metal cone infused, and cage hangings. These versatile lights are perfect for homes as well as restaurants. 
Ankur Lighting's Vintage Retro Cage Hanging Pendant Light is the perfect choice for this. 
Chandeliers in unique forms
Chandeliers in the form of art objects appeal to those wanting to complement the interior of a room with a remarkable and striking piece that will alter the entire look. The core quality of Chandeliers is the ability to be moulded into different shapes like linear, rectangle, cage, globe, hydron, tree, firefly, and many many designs one can imagine. 
No matter how big or small your space is, how high or low the ceilings are, you can find the Chandeliers for yourself. Since they are never out of style, you don't need to buy lights to keep up with the trend, instead, you can choose one that works with many different styles. 
Ankur Lighting's stunning Firefly Chandelier is a piece of art worth owning.
Minimalist lighting
If you are someone who is up to date on the latest trends, it will be no surprise for you that Minimalism has gained popularity due to its simple, neutral, and soft colours and eminent aesthetic forms. These can be used in the living room, bedroom, kitchen, or dining area due to their ability to highlight the sense of design, specifically if used on ceilings. They give a simple yet bold look.
These are perfect for office spaces as they give the whole atmosphere a subtle as well as classy look. Another point to keep in mind when using these lights is to not squeeze them with other fixtures and keep them as an individual fixture to avoid deviating from the whole minimalist look. Make sure you don't overdo these lightings, else it may take away the essence of the entire minimalist touch. 
Ankur Wooden Finish Concrete Table Lamp is the perfect addition to your modern home for minimal lighting choices.
Wall Sconces
Wall Sconces have made a comeback as they are an outstanding choice for accent lighting. These visually appealing, simple yet elegant, sift a classic living space with sophisticated vibes. These wall lights are versatile due to the details that enrich the decor. They offer a huge variety of looks as requested by the customer, ranging from crisp and contemporary, distinctive glistening crystal, chic copper-plated to traditional iron scrolls.
Like Pendant lightings, Sconces too create a traditional-with-a-hint-of-modern scheme that can incorporate into modern living spaces. These fixtures can be hung in art galleries or simply to draw attention to frames at home, can be used for light reading at the bed, used as ambience in Hotel lobbies.
Ankur 2 Light U-Shaped Rose Gold / Copper Plated Wall Sconce is an amazing choice of wall sconce for rustic themed homes.
Brass fixtures
The details and inclusions of brass continue to be at the top. It is found in clocks, dressing tables, vases, plumbing, and other accessories, so now designers are implementing this alloy into lighting fixtures. It is one of the best choices if you're looking to add relevance and luxury to the interior. They give spaces a warm tone and are expensive to look at. 
Ankur's Brass Holder Hanging Light is the perfect choice for this. 
LED strip lights
Strip lights are one of the finest technologically advanced products of LED. These lights are used as DIY decorations at home since they're easy to install. These lights have gained popularity due to a famous video-sharing app called Tik-Tok. They provide an aesthetic touch to the room. They come in different lengths, colours, and variations.
Along with providing for our different lighting needs, they also contribute to the preservation of the environment. The most loved feature of these lights is the changing colour and vibrancy. The mood one needs to work at home relies on the chosen colour and its vibrancy. This is why it has become a huge trend among youngsters. With just a click, they can change their lousy space into a party room.
Ankur Neon Silicon Outdoor IP65 Rated LED Strip Light (5 Meter Roll) is definitely sure to become the life of your parties.