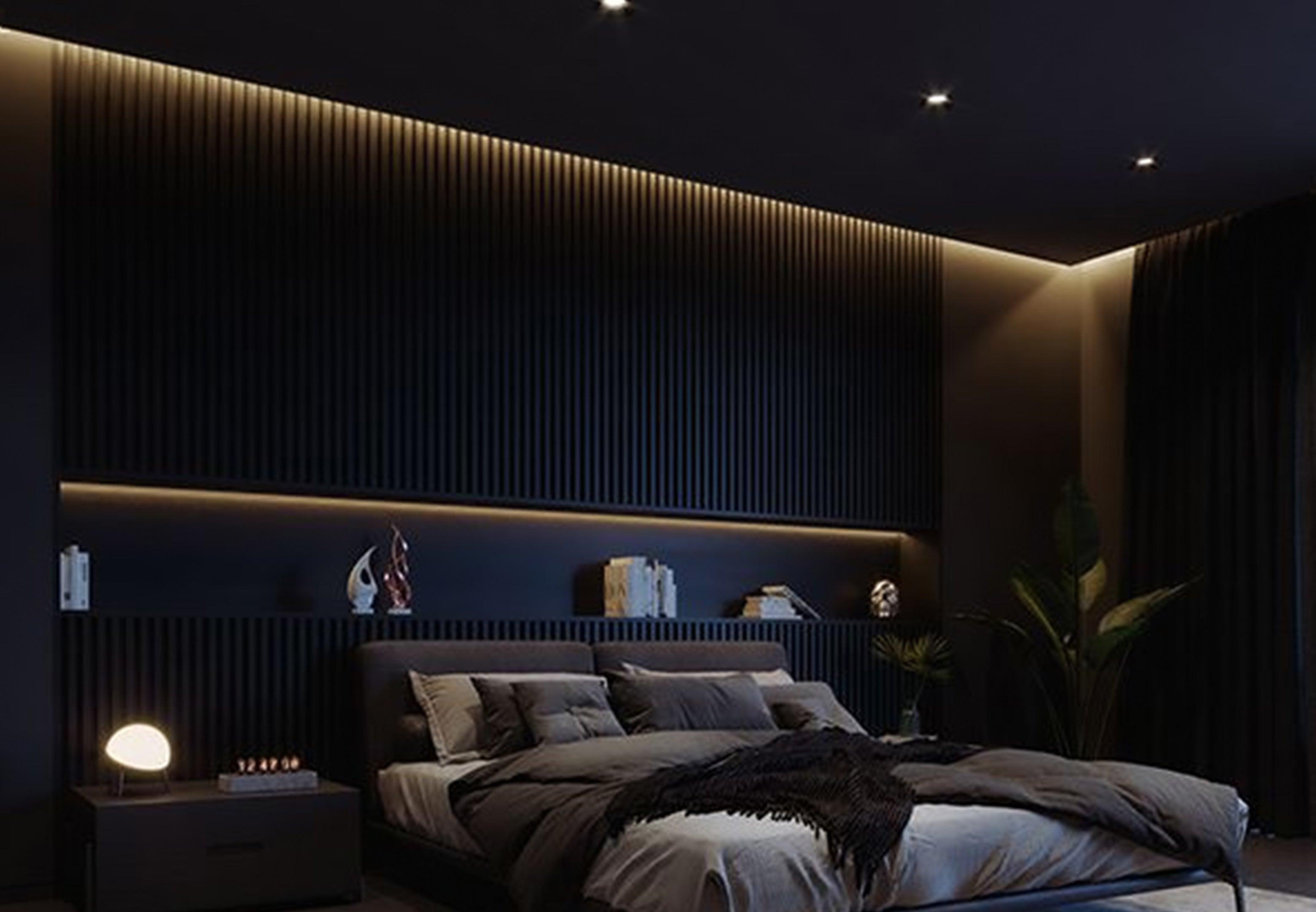 What Is The Best Lighting For A Dark Room?
Walls painted a deep dark hue when done right, can give a room a sense of grandeur and elegance. They help to make the house feel warm and inviting, complementing the tranquillity in the home's livelier, lighter spaces.
There has been a recent uptick in the popularity of dark and moody interiors, but this does not imply that the illumination is subpar. Lighting design remains essential even in these deliberately gloomy, dramatic spaces. Whether it's the kitchen, the living room, the workplace, or the dining room, all these rooms need to work seamlessly in tandem.
Whether a room has too little natural light or has been purposely decorated to be gloomy, these lighting ideas for dark rooms will take it to the next level of chic.
In a dim room, how do I improve the lighting?
Even if it's supposed to be black in there, it can feel depressing if there isn't enough light to see what you're doing. Colours like warm brown, navy blue, and deep black are frequently used in workplaces, homes, and classrooms. But that doesn't mean they can get by without adequate ambient, task, and accent illumination.
Maximize the use of available natural light and supplement with artificial lighting. Walls painted in darker tones tend to reflect light; strategically placed lights can bring out the room's intricate design. In addition, a dark, moody room, while it may be inviting, can appear smaller without the proper illumination. 
A more roomy appearance can be achieved by using lights with a cooler colour temperature. A pendant with arms or a cage chandelier can be used as a central light source, spreading illumination throughout a space.
A dark and gloomy room can be perked up and given a bit of glamour by adding metallic accents. The Ankur Vintage Retro Cage Hanging Pendant Light's textured black cage frame is airy and warm due to metallic embellishments. The design is replicated using hard and curved lines and mixed metals.
Give your home the highest level of luxury with a chandelier that makes you feel like royalty. This Ankur Gold Crown Contemporary Crystal Chandelier has an eye-catching crystal structure to elevate the look of your space. Light up your home more adorably with this elegant chandelier.
Do LED Lights Work Well in Low-Light Areas?
LED bulbs are great for ceiling illumination because they produce more light for energy expenditure and last significantly longer. They cast a gentle, pleasant glow that helps even out the room's lighting. Since LED bulbs last so long, your low-lit space will always appear great.
A wide variety of attractive new light fittings out there incorporate LED lighting. LED chandeliers and other lighting fixtures that include LED lights are stylish, practical, and environmentally friendly options for dimly lit spaces. 
LED bulbs can also be used in fixtures that require incandescent or halogen lighting. "smart" versions of these LED lights also allow for wireless colour adjustment.
Add a contemporary look to your space with this Ankur Interstellar Modern Double Height LED Rings Chandelier. The LED chandelier features a glass structure to more effectively glow up a dark room. Give your home an elegant and stylish look with this highly durable chandelier.
The Effects of a Wall Mirror on Ambient Lighting
Wall mirrors, particularly those hung near windows or other natural light sources, give the impression of more light entering a room. Hanging a mirror opposite or next to a window, for instance, doubles the amount of light in the room. A mirror placed between two wall sconces creates a dramatic effect.
Glow up your dark room stunningly with this Ankur Desire Round LED Wall Light. This lovely wall light gives your home a fresh and elegant look. Its sleek and contemporary look is sure to give a welcoming and cosy look to your home. 
Give your room a more elegant and stylish look with this beautiful Ankur Jube Contemporary Glass LED Wall Light. The wall light features two identical glass units to offer a unique vintage look to your home. 
It's not easy to bring light into a dark space. A comfortable space for all the activities there necessitates a scheme that provides good overall illumination in addition to task and mood lighting, with the ability to change light levels to suit the activity at hand.
The room's inherent darkness could be due to a few different factors. Dim lighting can result from a basement location, small windows, or shading from trees, vegetation, or other external features.
When lighting a dark area, LED strips can be a great asset. LED strip lighting should be incorporated into the designs if the space features any joinery or cabinetry. 
LED strips installed along the underside of shelving or within any joinery will increase overall illumination while drawing attention to the objects on exhibit. Similarly, adding LED lights to the top of the cupboard will give off a comforting radiance while also making the ceiling seem higher and the room more expansive. 
The same holds for any exposed shelving; LEDs placed in these areas will warmly illuminate the space while drawing attention to any ornamental pieces displayed there. LED strip lighting can be installed in curtain recesses or hidden behind cornices to produce a gentle wash of light.
How to Minimise Light Pollution?
Due to the light bulb and other technical advancements, potent light sources now illuminate streets, highways, and significant urban centres/commercial buildings. These conventional business light ...
Read more