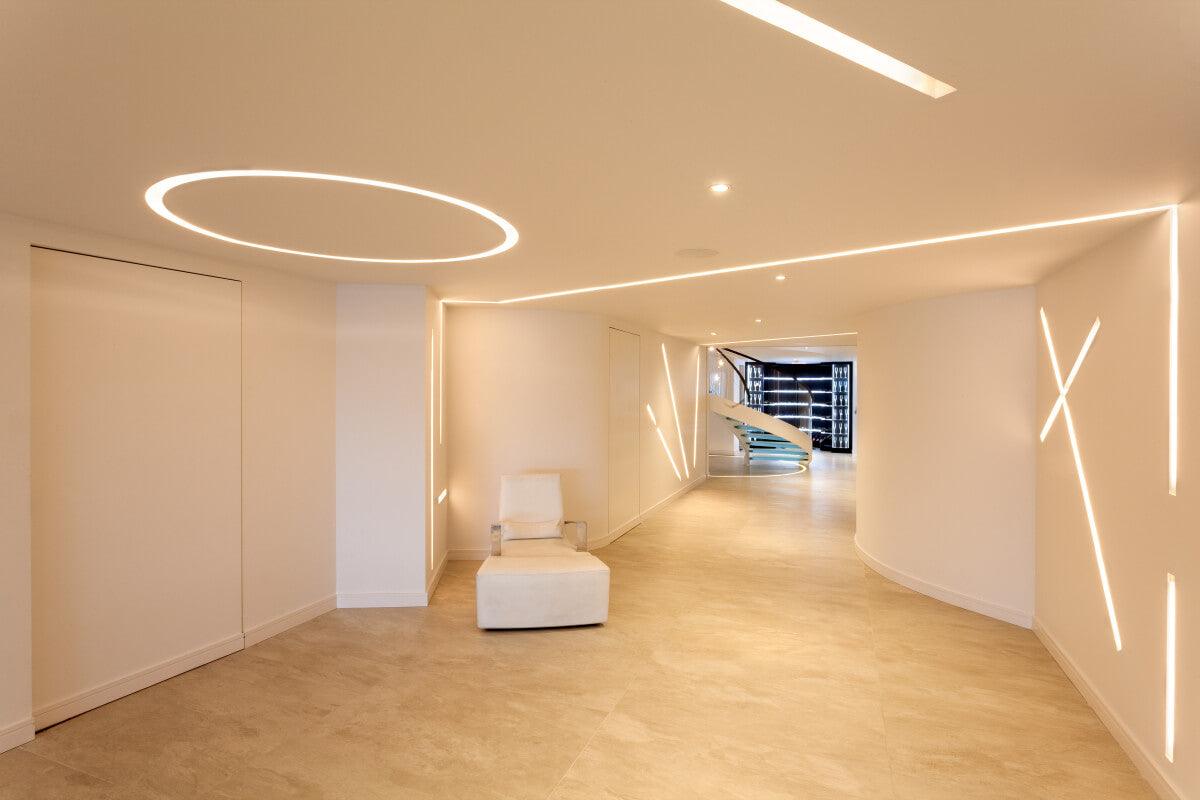 Innovative ways to light up rooms with low ceilings
Most lighting blogs usually cater to the needs of those that have fairly large spaces and impressive tall ceilings. But what about houses that have low ceilings? Are they doomed to a fate of poor lighting due to a lack of options? Should you worry about having boring interiors because you cannot accommodate different lights that you have wanted in your living room? No, and no. Lighting shouldn't be limited to only certain specifications that one must own, and the good news is, it isn't. While it is true that there are a million options that are available to those that have tall ceilings, there are a million more lighting ideas you can implement even in low ceiling conditions. 
When you don't have ceiling heights to your advantage, focus on other elements that you can bring to life in your space. Think about what mood you want to set, the colours that you want to highlight, some artwork or design you want to show off, and how you want your furniture to look in that space and what tone. Focusing on bringing all these elements together in a harmonious blend can work in your favour in a smaller space because that means clever and minimal lighting will suffice to do the job. You can design your lighting plan accordingly when you have a working idea of what you want your space to look like. 
Here are a few lights that can help refine your lighting idea for your space with low ceilings: 
Wall lights
Wall lights work well as ambient and task lights, providing ample illumination in a focused manner. Since they are positioned on the walls, they don't require high ceilings and don't take up too much space. You can also fix them near doors or artwork that you want to highlight, converting them into accent lights. 
Take these Pear wall lights, for example. They work better if used in pairs or multiples of two, and because they are made of metal and glass,  they flood the room with light easily. If placed near the bed, they can also be used as task lights while reading or working, although the Ankur Venus Bedside LED wall light will do the task just fine. Wall mounts like this one focus light in direction, making it easier to complete tasks, bedside or elsewhere. If you want to make things fancier and draw attention to some ornate art hung on your wall, you can check these SLOF Designer wall lights too. These can work both like ambient and accent lights because that's how versatile wall sconces are. 
Floor lamps
Getting contemporary lights that can double as part of your furniture is a very smart idea. This is especially true if you have a low ceiling, as you'll need to focus on incorporating lighting into furniture or making it seem like furniture itself. For fancy lighting that also serves the purpose of filling up space in this manner, floor lamps are the best option. They are great for focused tasks like reading or simply acting as ambient lights in your drawing room, for example. 
Floor lights can also impress your guests with your smart interior design plan and easily become a talking point in your home. Take this sophisticated Lucid Floor Lamp, for example. It brings a fresh modern look to your home no matter where you place it. 
Table lamps 
Suppose you have a dedicated desk for work in a small room. There isn't a high ceiling and there isn't space to incorporate floor lamps or furniture with accent lights. Table lamps come in handy then, as they are light and portable, cheaper than other fancy lights, and can be placed in low ceiling conditions as well. They provide ample light, especially for focused tasks to be done behind a table or desk. 
The Organ Contemporary Light provides perfect illumination wherever it is placed. It can be placed in pairs or multiples of two in a small space, flooding the space with bright light. It has an antique touch, and because the gold finish provides a royal look, it brings in a sense of opulence to your home. 
Recessed lights
If space is an issue that prevents you from exploring and experimenting with different lighting options for your home with low ceilings, then recessed lights are a clever way to bypass that. Fixed into the ceiling, these lights do not take up any additional ceiling space but provide brilliant illumination in a concentrated manner. 
Trim round recessed lights, such as this one, work perfectly regardless of the kind of ceiling you have and the location of the lights. These lights serve multiple purposes: they add an artistic vibe when fitted right above pieces of art, they can work as cabinet lights, be used as task lights when fixed above counters and tables, and also provide ambient lighting when fixed in rows in hallways and corridors. They're the perfect choice for low ceilings. 
Low pendant lights 
Now, not all pendant lights can be accommodated in low ceiling areas. Longer pendant lights might obstruct movement around the space and may not be good options for low ceilings. However, lower and wider pendant lights can still be used in such spaces. Low and wide pendant lights, such as this Drum Pendant light, work perfectly in low ceilings as they provide illumination for a wider area without hanging too close to one's head. 
Another good example is the Metal UFO Saucer LED Hanging light. Because it is flat and wide with an innovative design, it lights up a lot more space without looking bulky. If you want a natural tone in your space, then the Zane Cane Mesh Pendant light is the perfect option. This delicately designed bamboo light has enough gaps to allow for light to shine through it and looks light and stylish. 
These examples are more than enough reason for you to believe that you do not have to be disheartened if you don't have high ceilings in your home. As you can see, there are plenty of options for low ceilings so don't hesitate to include your favourite lights and designs in the final lighting plan for your home.