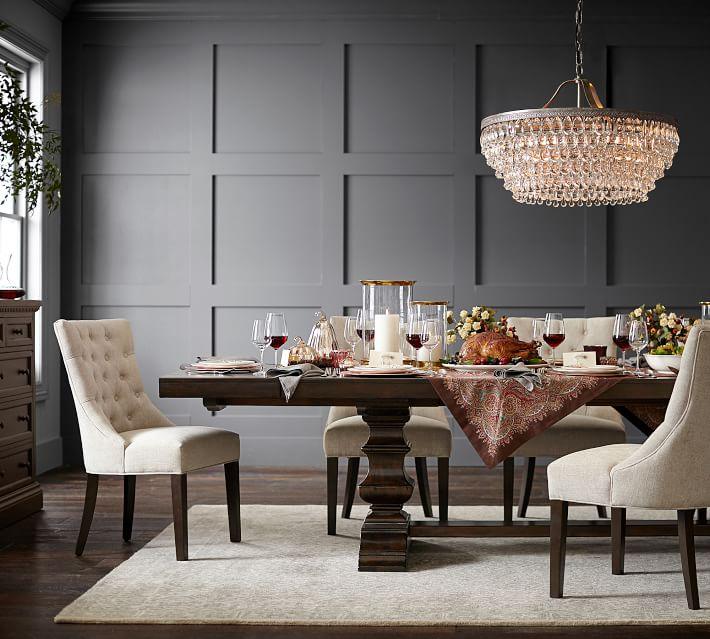 Dining room inspiration- secrets to choose the right lighting
Would you like to eat in a dark place? No, right? No one wants to dine in a dark place where the ambience is not good and they can't even see the food they are eating or look at the people they are dining with. That must be very disappointing! Don't worry! Today we'll tell you all the secrets of choosing the right lighting for your dining room!
Introduction 
Having dinner with your family is the perfect way to strengthen your relationship by sharing stories and talking to each other about what happened that day. Whether you're gathering for an everyday meal with your parents or throwing an epic dinner party for your friends, you want your dining room to shine. So, selecting the right lighting for your dining room is the most important step towards making your well-designed dining space shine. The dining space should be welcoming, homey and should give out a positive vibe to those using the dining room!
Types of lighting 
There are many types of light, but ambient light is that light above your table that illuminates the entire space. For small dining areas, pendant lights would do the job whereas, for large dining spaces, you might need a bold statement-making Chandelier to create a focal point.
     

Chandeliers: These are decorative, ornate light fixtures suspended from the ceiling. One of the most used light fixtures for dining rooms, they feature a central body with branched off arms to support the lights. Generally, the diameter of your chandelier must be half or two-thirds of the length of your table. You can check out the

Round Crystal Chandelier with Gold Metal Plates

by Ankur Lighting to get the perfect chandelier for your dining space.
2.       Pendant lights: These are statement-making lone light fixtures hanging from a ceiling on a single cord, chain, or rod. With 900mm LED Drum Pendant light by Ankur Lighting, give your dining room a modern look, and for large spaces or open-concept rooms try to use multiple pendant lights to create a more unique look.
3.      Sconces: These are wall mounted light fixtures that direct light upwards. They are perfect to add a soft lighting touch to your dining room and can amplify any beautiful space. Get the SLOF Designer Wall Light by Ankur Lighting to have warm and immersive lighting in your dining space.
4.       Track lights: These lights are installed inside a ceiling to create a minimalistic yet attractive look. As to light a dining space, it plays a supporting role in the main fixture. Also, YTS LED Track Light by Ankur Lighting is a dimmable track light that helps in setting the tone for what's happening at the dining table.         
The shape of the table 
While the shape of your dining table does not directly determine the light fixture, but it could aid in the selection of your fixture. For a round table, you should look out for a round or hexagonal fixture whereas a square or rectangle fixture would be more suitable for a rectangular table. Also, the size of the table plays a crucial role in the number of light fixtures to be installed. In a long table, for balanced light, you must go for double lights installation and if it's a smaller table, try to install a larger fixture to avoid it from getting in the way of functionality. Although multiple smaller fixtures can provide balanced light it's always better to go for a bigger fixture. But be careful to not choose a fixture greater than the size of the table in case of smaller tables.   
The brightness of the light 
Brightness plays a crucial role in setting the mood of your dining space. It shouldn't be too bright nor too dim. It should be just right to compliment the setting and add ambience to it. Bulb types and the number of fixtures are deciding factors but the fixture itself plays an important role. Drum pendants, enclosed on all sides, create a diffused lighting, however, a bell pendant can direct light more like a spotlight. So, select the light with the right ambience and brightness to elevate your dining space to the next level.
Accent Lighting and Aesthetics 
With chandeliers and light pendants providing the perfect ambience needed in a dining room, they may not be the only fixtures to do so. By adding layers of light, you could maximize the space and create a great lighting design. For instance, Venus Bedside LED Wall Light by Ankur Lighting are an elegant way to add ambient lighting that supports the main fixture. For illuminating a buffet setting, these wall sconces work beautifully above a sideboard or credenza. Also, Track lights like Dual Tone LED Track Light by Ankur Lighting blend in modern space and add extra brightness, especially in dark corners, that have a muted tone.
Conclusion
The right dining room lighting can make or break a mood. If done well, it lets your design shine to provide the perfect atmosphere and if done wrong, it can ruin your perfect family moment together at the dining table. That is why everybody loves good dining room lighting as it makes the room cosy and more welcoming to the guests. Picking the perfect dining room lighting fixture can be hard sometimes but is also fun to do. Also, don't do everything by the book and listen to what your heart says and give priority to your taste. You may like a fixture so much that you buy it before the dining table. In that case, you'll have to design your dining space according to the lighting fixture. So take the above dining room inspiration and choose the right lighting considering all the things we mentioned above so you could get value for your money.