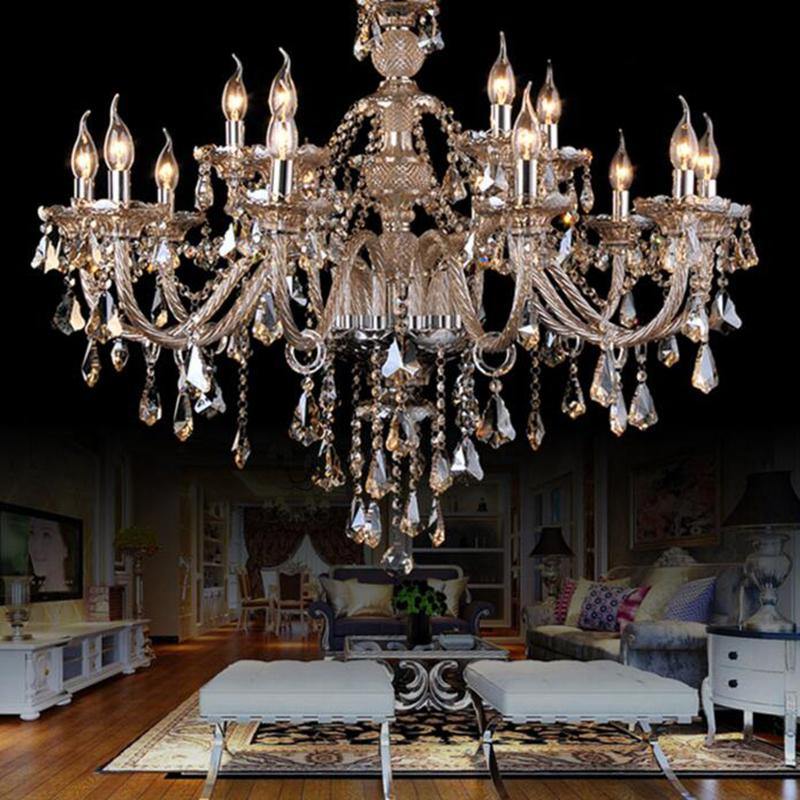 Tips For Lighting Your Foyer
Your home decor makes a house into your home. Therefore, your home decor must represent who you are and your personality. So, when people enter your home a signature foyer chandelier or light could be key to impress them and serve them a slice of your personality. In hopes to get the wow from your guests (or potential home buyers), you're going to want to make sure that the lighting in your foyer is up to standards. From extravagant crystal chandeliers to simpler drum pendant lights, a wide variety of foyer lighting options are available at Ankur Lighting. Our lighting experts at Ankur, suggest the following tips for efficiently lighting up your foyer.
What type of foyer lighting fixture do you need?
The most common choice of foyer lighting is the chandelier, a sophisticated option for providing plenty of light and elegance to the doorway of the house. Other fixtures that gain popularity in larger foyers include pendants that are suitable for slightly less formal lifestyles. There's a wide range of chandeliers and pendant designs to fit your room perfectly. Choosing a light fixture depends on two factors:
1. Your home decor 
2. Your home's dimensions

If you have a home decor that is classy and exudes luxury, you might want to go all out on a fancy chandelier. If your decor is more on the minimalistic side, a pendant light would be more suitable. 
Similarly, if your ceiling is not high enough for a hanging lamp, suggest a drum pendant light. They provide more illumination than the fixtures that mount the drum pendant to the ceiling because they hang slightly higher so that the light comes out of the top and bottom of the fixture. Smaller drum pendant mounts are available in a wide variety of upscale models. If you're searching for something formal for your lower ceiling, consider a smaller pendant light that blends the look of a chandelier with the versatility of a drum pendant.
Determining the correct size
There is a simple formula for determining the ideal width of your foyer light: the diameter of the fixture should be equal, in inches, to the sum of the width and length dimensions of the room. To determine the ideal height, consider the height of your ceiling. A hanging fixture should be at least 7 feet from the floor, but tall enough not to look "flat" in the space.
Our lighting experts say that there is a simple formula for determining the ideal width of your foyer light so that it fits in just right. The diameter of the fixture should be equal, in inches, to the sum of the width and length of the room. Find the height of your ceiling to decide the optimal height. At least 7 feet from the floor should be a hanging fixture, but tall enough not to look "flat" in space.
How much light?
Typically, because of its wide space, more light is required in the foyer. You certainly need enough light to see the room when you enter the house first, particularly at night. Be sure you're providing a lot of light in this area, but not all of it from the same fixture in the space as it would give out a harsh glare.
Always apply the lighting layer approach to your fireplace lighting to achieve the absolute best results. Think about where you need the most light: like a pair of wall sconces up the stairs or a chic wall lamp to attract attention to your favourite portrait. After all, lighting fixtures are meant to complement your home decor and highlight it's best parts!
What style is best?
Note that your foyer sets the stage for the rest of your house. Make sure you choose a high-quality fixture that truly reflects your unique style! Traditionally, home lighting is more formal in the front of the home i.e. in rooms like the foyer and dining room and informal in the back i.e. in the kitchen or bedrooms. But if you've got a casual and comfortable look all over your house, don't pretend to be someone you're not, and choose a more relaxing and informal light. If you find the foyer light style that you love, you can complement it with other lights from the same set. Check out our exclusive concrete collection for more inspiration! Keep in mind that mixing and matching can also be fun!
If you want to break away from traditional light fixtures like sconces and chandeliers and want to take a more modern approach to light up your home, you may want to incorporate LED light fixtures in your home. You may want to consider using LED lighting in your foyer, whether you want a fixture that uses LED light from the start or replace an incandescent fixture with LED bulbs later. This is especially useful in the foyer lighting with higher ceilings that is far above the ground because you won't have to get up on the ladder and adjust the bulbs just as much, due to the incredibly long life of the LED bulbs. 
Before you go, take a look at some of these fixtures that we think will be perfect as foyer lighting fixtures!
1. Ankur Contemporary Double Height Chandelier This incredibly wonderful chandelier is the perfect piece of lighting for a trendy and modern interior design. The beautifully arranged glass orbs produce a magical effect that enhances the visual appeal of a place making it the perfect fit for luxurious foyers. Its exquisite design is meant to represent a sophisticated version of yourself and to make your home an example of elegance and beauty.

2. Ankur 2 Light U-Shaped Rose Gold / Copper Plated Wall Sconce This breathtaking wall sconce will give you a classic look spiced with a modern, trendy style that will leave you in utter amazement. The chic U-shaped style brings a modern and elegant look to the light. With a warm and welcoming look, the wall light nails are trendy and brand new trends that contemporary interior design demands. Add this light to your walls for a sleek,

After applying these handy tips from our experts you will achieve your a gorgeous entryway that is sure to make a lasting impression on family and friends who visit. Remember to choose a fixture that suits your style in decor and helps you refine your beautiful home.