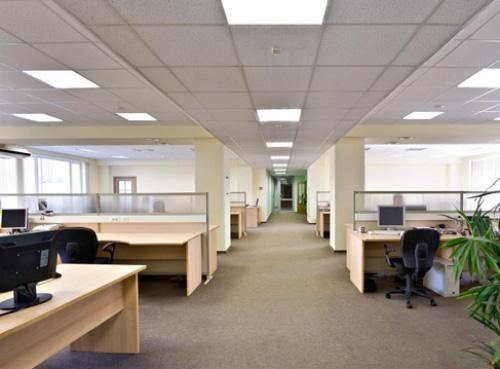 Renovate Your Workspace With Better Home Office Lighting Ideas
Work from home for a long period becomes quite monotonous and boring after some time. To enliven your workspace, continuously keep making a few changes, be it shifting your space or adjusting the lights. Proper lighting and the ambience of the workspace contributes a great deal to your productivity of work. Poor lighting greatly diminishes your energy, dampens your morale, affects your overall mood which ultimately decreases your quality of work along with other health problems including eyestrain and headaches. 
If the natural light is not making up for a considerable workspace, add some extra sources or create a layered lighting design by incorporating ambient lighting at the ceiling, task lighting at the desk and accent lights in between the desk and the ceiling to jazz up the ambience of the room. The usual functional light is not sufficient to meet the expected requirements for an ideal workspace at home. Consider these tips to take your creativity to the next level by only making a few changes. 
If you have to focus on work for long hours on your computer, choose a well-defined light source dedicated to the work you are doing. In such cases, an adjustable lamp or articulated desk lamp can give you the exact customisable light for a variety of tasks. Set up dedicated task lighting at different workspaces. 
The Direction of Light
A light source from the back of your workspace will cause hindrance in your work by glaring your screen. Likewise, look out for unintended shadows cast by lamps set up for task lighting also considering the location of windows when setting up your workspaces. Most home offices consist of ambient lighting that is diffused throughout the space and task lighting that is focused on specific workstations. Classic desk lamps like tried and true lamps are key to bringing everything into focus. Desk lamps with a flexible arm are ideal to adjust their height and angle to suit the task at hand any moment. A clever combination of natural light and the perfect choice of artificial light can create the conducive and encouraging environment you require for the home office. It also ensures good health and well-being because of the exposure to sources of Vitamin D.
Light Up Your Home Office
The office is the place you spend most of your time which is why it is important to take good care of the lighting of your workspace. Overly harsh fluorescent or too dim light is harmful to your eyes and is a trigger for migraines, headaches and eye strain. The dimly lit or dark office gives you a depressing feeling. To give the home office a smart and trendy look, try incorporating accent lighting the beauty of which can be achieved by installing a decorative pendant light above the desk or by installing wall-mounted bracket lights. This lovely Ankur Euro Tom Medio 12W Recessed LED Downlight is the perfect fixture to light up your house with a touch of stunning elegance and class. Updated with the best technologies to transform your space into a comforting one. These lights beautifully highlight some areas of the home office. 
In a Home Office
Work from home gives you the leverage to customise and choose your setup. Make strategic use of your natural light in your surroundings. It is way easier on the eyes. Take a good look at your space and make use of the natural light that's already present. If you have your office set up right beside a window, take full advantage of all that beautiful natural light. To accommodate varying levels of brightness during the day, try solar shades to soften tamper the light and view as required.
Tackle the Overhead Situation
Overhead lighting isn't always the greatest office lighting source, however, it can help fill the places other sources of light seem to miss. To substitute the direct glare of overhead lights with something fun and unique, try pendant lights. Try adding lampshades to soften and scatter otherwise harsh light. Also, an upward-shining floor lamp bounces the light off of walls and ceilings which better illuminates the entire space without creating undue glare and contrast while avoiding casting shadows.
Ambient and Corrective Light
Eye strain from an intense function of your eyes caused by staring at a computer monitor is a serious hindrance in your productive working. In such cases, throwing a little ambient light into the mix of the lighting of your room will help soften the harsh light from overhead or task lighting. Go for a desk lamp with dimmers to control the intensity of the light while working on activities like reading, writing or working on the computer. We recommend our Ankur Lucid Table Lamp that provides the right amount of illumination to keeps you focused on work! Find the perfect ambient lighting from millions of light colours to suit your mood and need. Ambient lighting is general lighting, where the light is uniformly distributed via ceiling-mounted and wall-mounted fixtures.
Fight the Fluorescents
Switching to fluorescent lighting can sometimes cause migraines and are all-around unpleasant. Chances are, you can minimise the negative effects in your home cubicle by integrating your task and ambient lighting. To make your space look cleaner and organised, look for more compact lights or even table lamps that occupy less space. In case the desk is too small and there is no space for a table lamp, you can opt for a floor lamp as well. Make sure of the positions of the lamp to prevent shadows or reflections.
Track Lighting
Install track lights on the ceiling of the home office. One can adjust the angle of each track light and use it to highlight or illuminate different areas of the home office to give you just the right mood to kickstart your work. If you're living the cubicle life at home as well, it may seem like your fluorescent lighting woes will never leave. But fret not these alternatives and fun lighting tips will help you lighten up your day and also keep your eyes healthy and focused. 
This unique track light from Ankur Euro Cant-60T LED Track Light comes with a piece that connects to a ceiling outlet and a special 90-degree piece for making turns. The heads can be mounted anywhere along the length of the track for maximum area coverage for a better lighting experience.
Beyond these functional lighting ideas, you may additionally want to add other decorative and accent lighting to help enhance the visual character of your home office. Accent lighting like mantel or picture lights instantly highlights objects or other elements in the room, while decorative lights like wall sconces provide direct visual appeal just right for your mood.