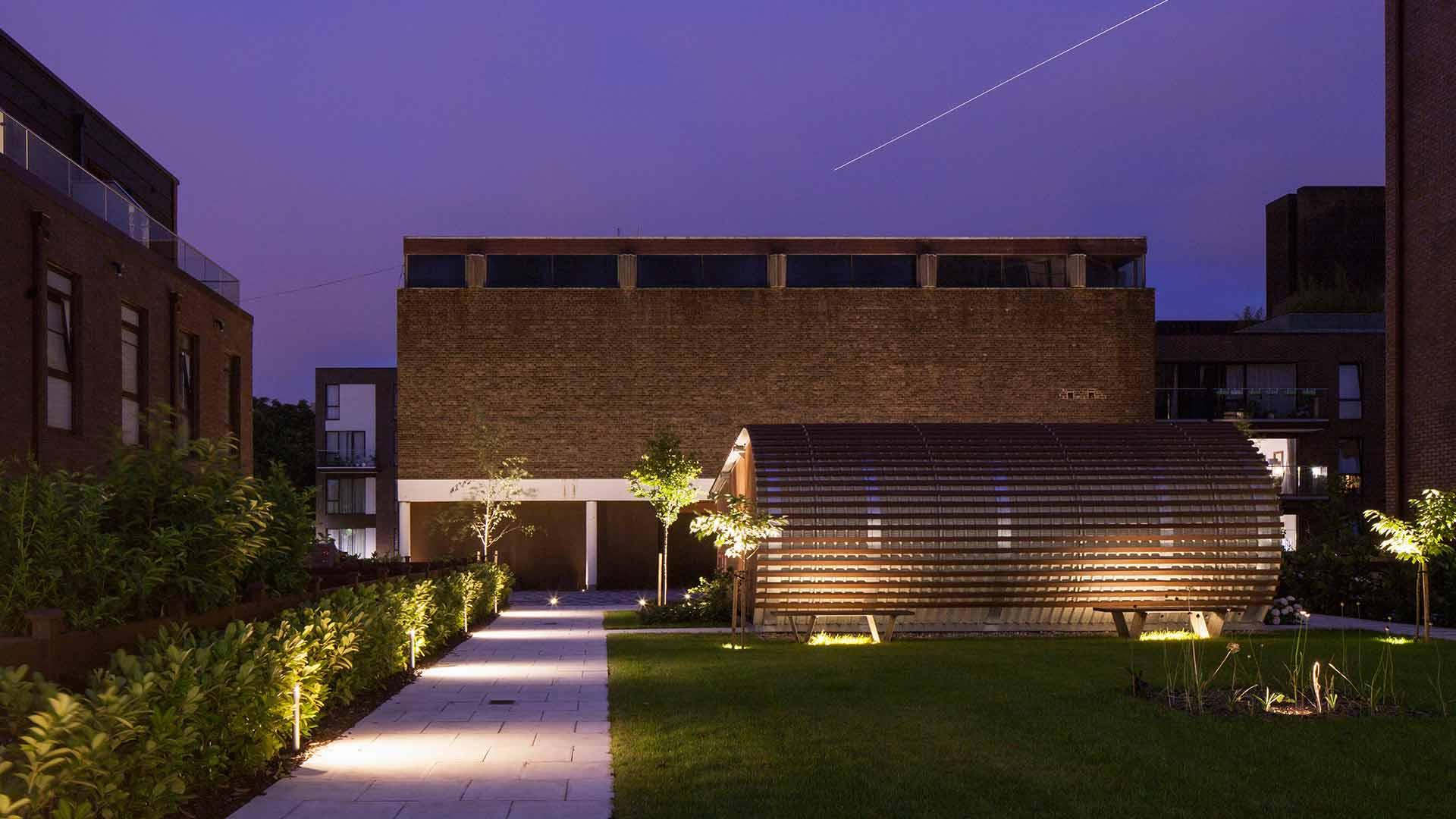 Recessed Lighting for Exterior Spaces
Exterior living spaces like patios, backyards and driveways can truly enhance your family's special moments with a cool breeze and nature's beauty all around you. Outdoor recessed lighting increases the amount of time you can enjoy your open-air spaces, allowing you longer hours for relaxing and entertaining, whether you invite friends over or stay in on your own. With their low profile and subtle design features, recessed lights blend into the context of your favourite outdoor areas. You won't have to be concerned if the weather turns bad because damp rated recessed lighting is safe and approved for use in wet locations.
Most homeowners have discovered that outdoor recessed lighting works extremely well in terms of creating the desired atmosphere and functionality for their home's exterior spaces. Because of its shape, this lighting choice is as effective as other outdoor light fixtures while still providing a clean, unobtrusive exterior space. Recessed lighting may be installed into a ceiling or wall. They can also be used in patios and on floors.
What is Recessed Lighting?
Many outdoor spaces are not well-lit at night to be completely functional. Outdoor recessed lighting is a convenient way to provide the appropriate degree of illumination so that you can use your yard at any time of day or night. If you want basic wall lights or something more advanced, choosing the appropriate form and light level is critical. Outdoor lighting, for example, is softer and easier to spread out for whole-yard illumination. Ceiling lighting may also be used to brighten up your deck or porch.
Recessed lighting fixtures are installed directly into your ceiling or room, directing light downward towards the ground. The beam angle illuminates the outdoor living space in this manner without disturbing your neighbours with bright lights pointing in their direction. To have even more control over the lighting effect, dimmer switches can be added. If you're going to use LED soffit lights outdoors, make sure they're UL-listed for use in wet or damp environments.
While it might seem that purchasing recessed lights is an easy task, the fact that there are many different types of recessed fixtures available may make the selection process a little difficult. Choosing the right recessed light fixtures will depend not only on their appearance or your personal preference but also on where the fixtures will be used and whether they will be installed in a brand-new or renovated room. 
Installation and customisation:
In most cases, you can install exterior lighting yourself without the need to employ an electrician. This enables you to choose the appropriate trim lighting for your exterior. You can make exterior recessed light fixtures dimmable so that you have complete control over the brightness. Many people prefer white lights because they cast a normal and subtle glow against the background of night, allowing for sufficient light that isn't so bright that it disturbs the neighbours.
Under eave lighting is also available if you want to essentially frame the exterior of your home in light for soft, yet complete, illumination at night. To illuminate more of your yard, consider floodlights, security lighting, and landscape lighting. Alternatively, Ankur Balino Outdoor Ground Burial Recessed LED Path Light can be used for basic accent lighting.
Where Does Outdoor Recessed Lighting Works Best?
Wet rated recessed lighting is highly effective and flexible, and it fits well in almost every outdoor application. As much lighting as you need above your grill, sink, and speciality appliances will help your outdoor kitchen greatly. Recessed lighting over a dining area provides controllable illumination, allowing you to set the mood as you see fit. Outdoor recessed lighting may also be installed over a covered spa or pool area, in a gazebo, and a variety of other locations on your property. Additionally, a covered parking area, such as a carport, would benefit from some additional lighting. In addition, wall-mounted recessed lights or deck step lights change the look of your home at night by providing practical, accessible illumination. It also adds a layer of protection to your outdoor living spaces.
Outdoor Recessed Lighting Ideas for Every Decor Style
Whatever your function, wet rated recessed lighting provides flexible visibility as late as you want to be outside. You will find just the right lighting for your spaces by experimenting with different trim shapes and sizes, both large and small. Consider designs that provide a variety of outdoor recessed lighting, such as step lights, to make your property safer and more aesthetically pleasing in the evening.
Outdoor recessed wall lamps by Ankur Lighting like these make it easy to add ambient lighting to the exterior walls, adding warmth to the silhouette of your home at night. Ankur Lighting also offers a selection of ultra-thin downlights to distribute effective lighting in your favourite outdoor spaces.
How to Choose the Best Outdoor Recessed Lighting For Your Home?
Since there are so many versatile wet rated recessed lighting choices, they can help switch your family's lifestyle to make the most of your yard and outdoor attractions at night. When selecting fixtures, make sure to review all technical features, such as low voltage and line voltage electrical hookups, to ensure you have the correct can lights. Take into account the scale of the trims in relation to the ceiling and the available space to be illuminated. Keep in mind that you can find around and square trims in a variety of tints to match your existing palette in that room. You must also choose suitable housing based on the layout of your house. Finally, remember to consider the various light sources available.
Outdoor recessed lighting outfitted with LEDs is an eco-friendly, long-lasting solution that also provides comfort and warmth. If you enjoy the simple beauty of outdoor recessed lighting, you can find other flexible exterior lighting options appealing, such as outdoor chandeliers, which, when paired with ceiling light fixtures, will be able to provide a higher degree of brightness both above and below ground for complete illumination. Outdoor recessed wall lights are another choice that can be mounted on any wall, giving you a lot of versatility in terms of brightness and placement.