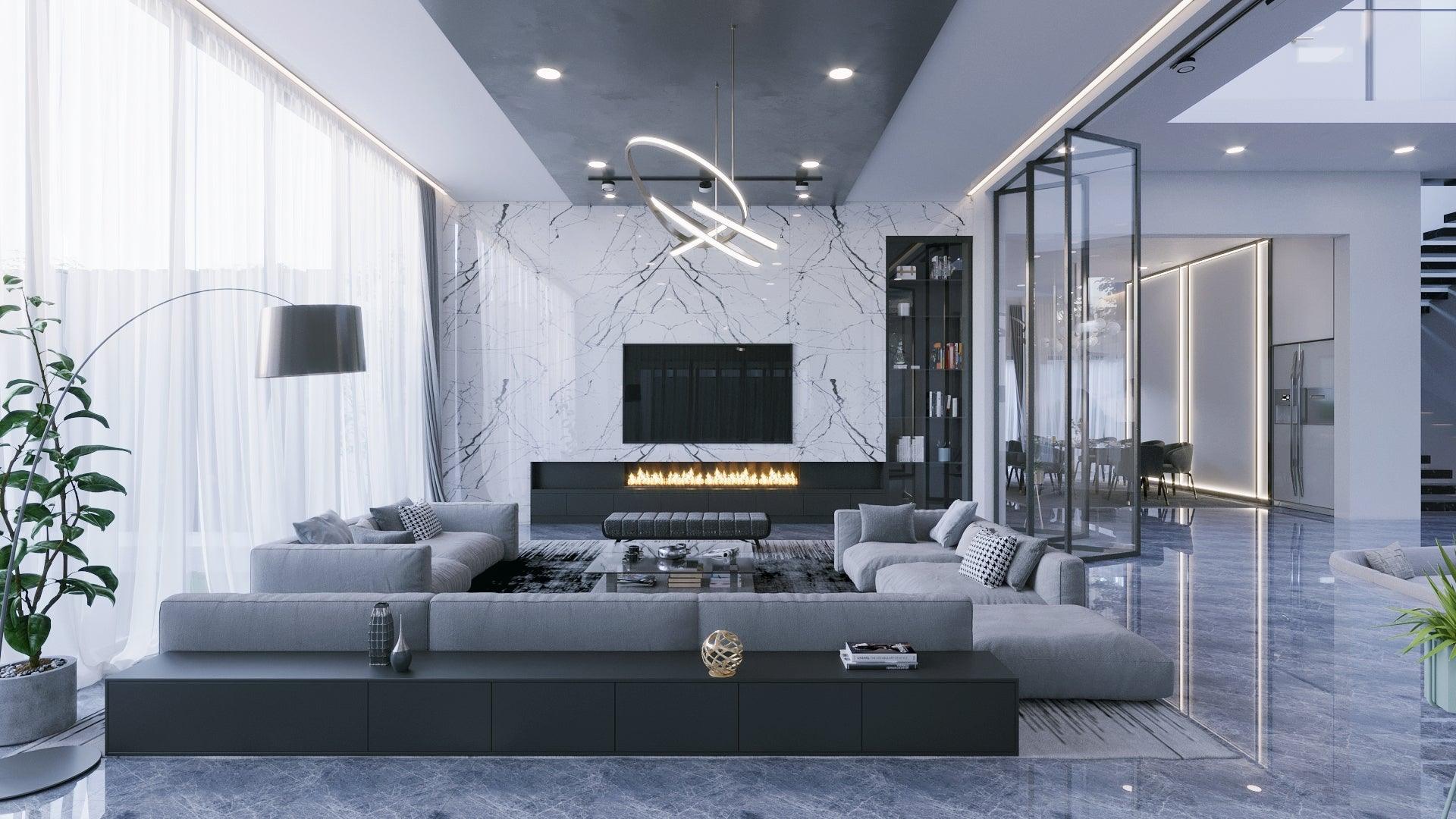 Living room design mistakes and how to solve them
Living rooms are one of the most frequented spaces in the entire household. The first and the last thing anyone sees who enters or leaves the house is the living room, which is why people go to extra lengths to make their living rooms stand out. Like a beautifully painted picture, a well-designed fabricated living room gives a glimpse inside the talented mind of the designer. 
Fancy living rooms that have poor sitting arrangements do not qualify as well-designed living rooms. Living rooms should be attractive and also comfortable. Even if something is slightly off, you can feel it but can't pinpoint it. Decorating a living room can be hellish if you have just moved in with no idea whatsoever.
From choosing the wrong sized curtains to placing too many things in your living room, your fear of making the main room look unappealing is justified. 
People generally decorate their living rooms with paintings, statues, a tv set, pieces of furniture, lights and much more. But how to know what can suit your style and when to stop? Here are a few design mistakes you should avoid, along with their solutions:
Sofa - A sofa is a seat with cushioned arms and a back. One of the most sought after things for a living room is a sofa. Many a time, despite having excellent tastes in design, people refuse to part ways with their old sofas, leading to a complex situation for the designer. 
Solution - 
Size: Size always matters. If you have a large living room, you need sofas that fill out the available space. If you are looking for a minimalistic look, choose a four-seater or more sofa that can act as the centre point of the living room, use coffee tables and plants for an added grand scene. If you have a small living room, opt for an on-trend classic sofa that is comfortable.
Colour scheme: It is frustrating to decide on a colour scheme for your home. But starting with the main room in your house can help you settle down on the final colours. If you want your living room to be light, go for pastels or solid colours. If you want a modern touch, choose simple sofas and dark walls.
Usage: Sofas are supposed to be used and not just kept there for show. Knowing what will be best for you is necessary. If you work all day, getting a sofa that can help with proper beck rest is crucial, and if you have kids, opt for darker shades.
Rug - Rugs can be a gamechanger. People often mistake small rugs to be aesthetic for their living rooms. Remember, they create a visual pathway for your eyes. Rugs have been getting popular lately, but how to select a carpet perfect for your new living room?
Solution - 
Size: One should always keep in mind that the size of the rug should be more than the sofa in your living room. Carpets help guide the eye across the room.  
Colour scheme: Finding the right colour for your carpet can be a bit confusing. If you have plain furniture, you could spice up your living room with a patterned rug. If you have a neutral coloured room, a solid colour rug can add a soothing effect.
Texture: You can find multiple feels for your rug. But choosing what would be suitable is the key. Wool rugs add warmth, while silk can give a feeling of a rich living room. 
Paintings - Everyone knows that paintings can reflect moods. Paintings should add to the aesthetic of the living room and not do the opposite. People think adding as many paintings as possible can make their room look very posh. Hate to break it to you but, it doesn't.
Solution - 
Size: The painting should match the size of the wall. Cramping multiple paintings on one wall is not advisable.
Colour: Reflect the mood of your living room through your paintings. If you are looking for a living room, go with bolder painting ideas. For a family designed living room, try to go with calm colours.
Visual balance: It is a necessity to achieve a visual hierarchy in your living room. Paintings that have colours mixing with the wall can give a more visually balanced look.
Wall colour - Picking a single shade throughout your living room is a big No. It is no doubt tricky to pick colours that will work well for you in the years to come.
Solution - 
Look around yourself: If you are confused about what would look best for your living room, picking out a few shades from your living room furniture and create a palette will help you pick out the best colour for your walls.
Stay safe: If you are worried about how bright colours will look on your walls (definitely not that great), go with neutral shades. With just a slight hint of colours, you can never go wrong with neutrals. If you want a cosy living room, neutrals are a perfect choice. 
Keep up with the trend: It is a point to consider when looking for painting your walls. If you are someone who loves to keep up with the ongoing trends, you might want to look into this a bit deeper. As of 2021, most people are going with cool/calm colours.
Lighting - People think it is okay to have a single light source in the entire living room. It can make your room look dark and unappealing.
Solution - 
Area: If you have a large room, you can choose various options from Ankur Lighting, like chandeliers, sconces, ceiling lights, track lights and much more!  
Simplicity: Don't overdo it with your lightings. Installing too many lightings can ruin your living room look. Too much brightness can be disturbing for the eyes.
Moving into a new house can be challenging, but with the help of these tips, we hope you enjoy your shifting experience.