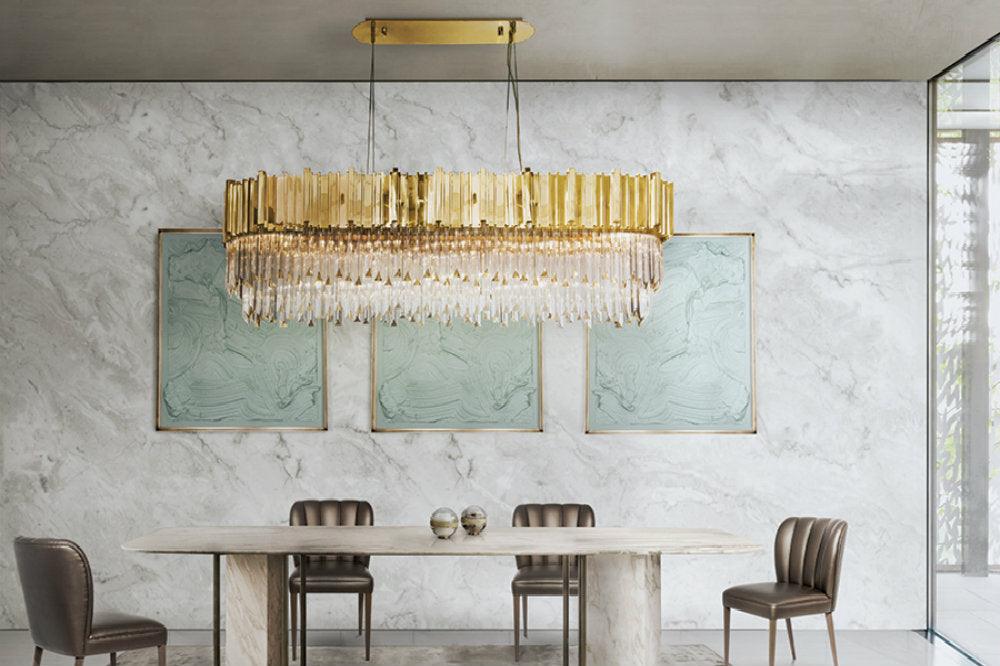 Lighting Trend Report For 2022
People around the world submerge themselves in the whims of trends - from fashion to interior, the list is endless. When talking about interior design, lighting has started to play a crucial role in brightening the house and painting the ideal setup.
The lighting trends for 2022 have brought nature closer to homes without affecting the elegance of the room. 

Interior Design Over The Years
Over the years, people have chosen different styles that have changed every few decades. The taste and style of people have changed steadily over the years.
So, to dive deeper into the interior design trends over the years and see where lights came to play in the design trends, let us take a look at these trends starting from the 1900s following up till 2022:


The 1900s

-

Art Nouveau

- This art style was very prominent between 1890 to 1910. This movement saw everything made following nature, especially flowers. The color crimson was a standard of this era.
The 1910s -

Art Deco

- This trend is one of the closest to modern trends.

Art Deco was elaborate and atypical, and people would have a combination of multiple materials in one place. Round mirrors and geometric shapes became the norm.
The 1920s -

Bauhaus

- This movement made a statement by embracing bold and primary colors. This era focused minimally on applied arts and architecture.
The 1930s -

Streamline Moderne - This era was inspired by transportation and industrial machines. Cement, steel, and glass were in demand and people looked out for rounded corners and low-lying horizontal forms in houses.

The 1940s -

Modernism - This is the start of what we call modern interior design. People believed in "less is more". Modernism was inspired by the machine age and new technology in architecture. 

The 1950s -

Scandinavian

- The pivotal movement in modern history. It provided a stylish interior at an affordable price.
The 1960s -

Space Age

- Influenced by space, people started buying furniture that resembled space travel and flights during the 1960s. It took the design to a new level by introducing plastic as one of the materials.
The 1970s -

Back To Nature

- This era marked a complete off-track of styles by introducing various furniture relating to the environment.
The 1980s -

Postmodernism

- This era marked an even stranger reaction to the modernism trend. People started feeling more is much better than less. Hence, people filled their homes with bold colors, clashing patterns, oversized scales, and excessive decoration.
The 1990s Onwards -

Minimalism - Simple became synonymous with sophisticated and, white and neutrals, became the more inviting colors. As the years went on, the minimalism era saw a few changes - Like the introduction of green (Due to the environment) in the 2000s or the addition of lighting (especially that gave a clear, more sophisticated look) in the current times. 


The minimalism trend gained even more popularity around the year 2019- When low-profile light fixtures entered the market. 
Lighting Trends For 2022
Every room requires specific lighting and lighting fittings that aid in bringing out the essence and style of the room. The top 2022 trends are focused on originality, starkness, and functionality. These trends are bringing nature closer and also keeping up with the elegance of your style. Here are the top lighting trends for 2022 that you can incorporate into your home:
Bring Nature Home
This trend tries to bring nature-inspired material into homes. Nature-inspired lighting will embrace you with its simplicity and naturalness. If you are interested in going for nature-inspired lighting, then keep in mind these aspects while buying the lighting:
Go for nature-inspired materials like bamboo, wood, and so on. These materials will remind you of the beauty surrounding you. Take a look at

Ankur Eclair Natural Cane and Fabric Pendant Light

to see what elegance natural lighting imparts.

Go for natural shades. Nature offers soothing colors, unlike the artificial colors made by man. So going for earthly brown or ocean blue will be the perfect reflection of natural shades.
Go for elements of nature. Elements like fireflies, flowers, and feathers are some examples of elements of nature. These elements will add to the elegance of the room.

Cocoon Styled Lightings
Cocoon-styled lighting adds a sense of warmth and comfort to an environment. The 2022 trends rely on comfort more than anything. That is why setting up cocoon lighting can never go wrong. This setting is perfect for a comfy living room or bedroom.

The latest trends encourage the use of simple designs and decorations when it comes to lighting. People have turned to simple, raw lighting designs that are inspired by natural hues and soft textures. Check out Ankur Nordic Cone with Natural Wood Pendant Light and Ankur Nordic Slim Cone Natural Wood and Metal Pendant Light for a magical touch to your living space.
Believe it or not, industrial-style lightings are elegant and add a style to the room in they are installed. The contemporary world is focused on adding these style statements into their homes.
When buying these, you must take into account the colors and the material of the lighting. Ankur Double Rope Hanging Lighting is one such industrial lighting style that will not disappoint you.


As discussed earlier, the 1930s were a unique period for interior designers. People were opting for cement and rounded structures, glass globes, and metallic elements.
Bringing that back into the 2022 trends, take a look at these beautiful Ankur Tricolour Pyramid Concrete Hanging lights, Ankur Cone Glass Pendant, and Ankur Golden Gradient Glass Globe Hanging lights. They are sure to brighten up your room and make it look sophisticated.
Lighting Around The House
Lightings play a crucial role in setting a mood and it is of utmost importance to know what suits well in which place. 
Geometric Shape Lightings

Nature-Inspired Lamps
Invisible Lighting Fixtures

Brass Floor Lamp
LED lighting surrounding mirrors

Industrial Lamps
Chandeliers

Glass Lightings