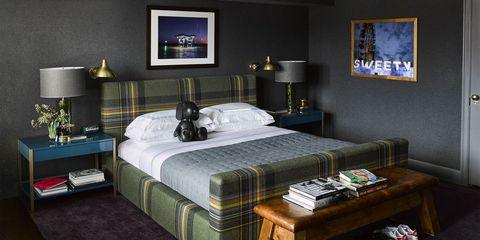 5 Intelligent Tips To Light A Small Room 
One of the biggest worries of moving into a home is knowing how to make the space more personal. Everything that we do is aimed towards adding a touch of ourselves to reflect our emotions and personalities in it. The same applies to homes. Be it refurbishing a home that's lived in or moving into a new home, we need to pay attention to all of the elements in our control. Lighting is one of them. 
The trick to designing visually appealing spaces today is to understand that less is more.  This is especially true in smaller spaces. Lighting is an essential element that can change how we perceive any space, regardless of its size. In smaller rooms, we need to focus on making the most of what we have to highlight the best parts of the room and make it more cozy and comfortable. 
Here are a few smart tips to light a small room: 
Make use of the wall space
Many small rooms do not have ample ceiling height, so you need to think about how best you can make use of the small space provided. This is when you look at the walls and involve them in your lighting plans. 
Several creative wall lights do not take up too much space and do justice to whatever is already there in the room. This Ankur Flexi Bedside Wall Light, for example, is a slender design light that can be fixed wherever you cannot afford to give up too much space for heavy fixtures. 
You can combine these wall lights with low-hanging pendant lights like this LED Drum Pendant light. Low-hanging fixtures like this one will provide ample lighting taking up minimal space. 
Recessed lights to the rescue
If you're not a big fan of having many light fixtures, recessed lights are a brilliant option to invest in. They are low-profile and do more than just single sources of light. 
Usually, people prefer single overhead lights or tube lights but that might not be a smart choice for smaller rooms. One of two things might happen: one, there will be darkened spots and corners in the room, creating a very uneven spread of light; and two, one overhead fixture might throw a very harsh bright light through the room, drowning out the features. 
This is why adopting recessed lights is a good idea for it saves space and provides even lights that can be dimmed as well. 
Invest in track lights and strip lights  
If recessed lights are not your thing, and you would much rather prefer visible lights that can be directed in certain directions, then track lights might be a better option for you. These lights can also be used as task lights if placed sparsely around the room, especially above your work or study space. Use enough of them and they can double as ambient light fixtures when coupled with a fancy central light or wall lights. 
If you have false ceilings, then getting strip lights is a brilliant choice because they pack a punch together. This is a great way to illuminate small rooms that also have lower ceilings because you are not wasting any more space for evenly distributed ambient lighting. 
Consider getting floor lights and table lamps 
Floor lights and other movable lamps are also smart investments. These can be in the form of table lamps you can use to layer lights in the room. This wooden finish concrete table lamp is a good example. 
Because overhead lights might not be enough for focused tasks like working or studying, having a small table lamp to have added illumination is a good way to combat the patchy lighting. 
Some table lamps can also act as art pieces because of their design and aesthetic appeal. This organ metal contemporary table lamp is just one example of aesthetic lamps that eliminate the need for added art pieces in the room. 
Floor lamps are also helpful to light the corners. Dark corners leave the room looking drab and lifeless while even light across the room can elevate the entire look of the space. Having sleek floor lamps that are adjustable in direction and height can come in handy in small rooms because they work as task lights too. 
Small lamps are also great options. When fixed on either side of the bed or couch, they can draw your attention to details, especially on the walls. These glass cylinder wall lights are a simple example of how elegant they can look when used smartly. 
Additional tips to complement lighting changes:
Reduce furniture
A simple trick to make a small room look bigger and more spacious is to cut down on the furniture in that room. Remove furniture that you've decided is extra or that you can do without. 
You can also swap larger pieces of furniture with smaller ones, like for example removing a bedside wooden dresser and placing a smaller glass teapoy instead. This creates the illusion of a larger space. 
Increase the number of mirrors and windows 
Reflective surfaces are very helpful to illuminate any space. This is why mirrors and large windows come in handy. They effortlessly flood any room with ample light during the day. 
Place the mirrors strategically opposite windows to reflect maximum light. They can make the space look more open and inviting, creating an illusion of added space. 
Get creative! 
Who said you need to stick to any rules? You can have fun with your options for lighting your room. If you want to invest in one lighting fixture that can provide ample light in all directions, then this multi-directional ceiling light is a great option. Lights like these are one-stop lighting solutions, especially in small places because they act as focal pieces to direct light in all directions. 
Depending on your aesthetic, you can also incorporate other elements and materials like cement and black metal - if you're opting for a rustic look -  or natural materials like bamboo and jute. You can get creative with the endless options that exist! The most important thing for you to do is to enjoy each step and understand that this does not have to be a difficult process.