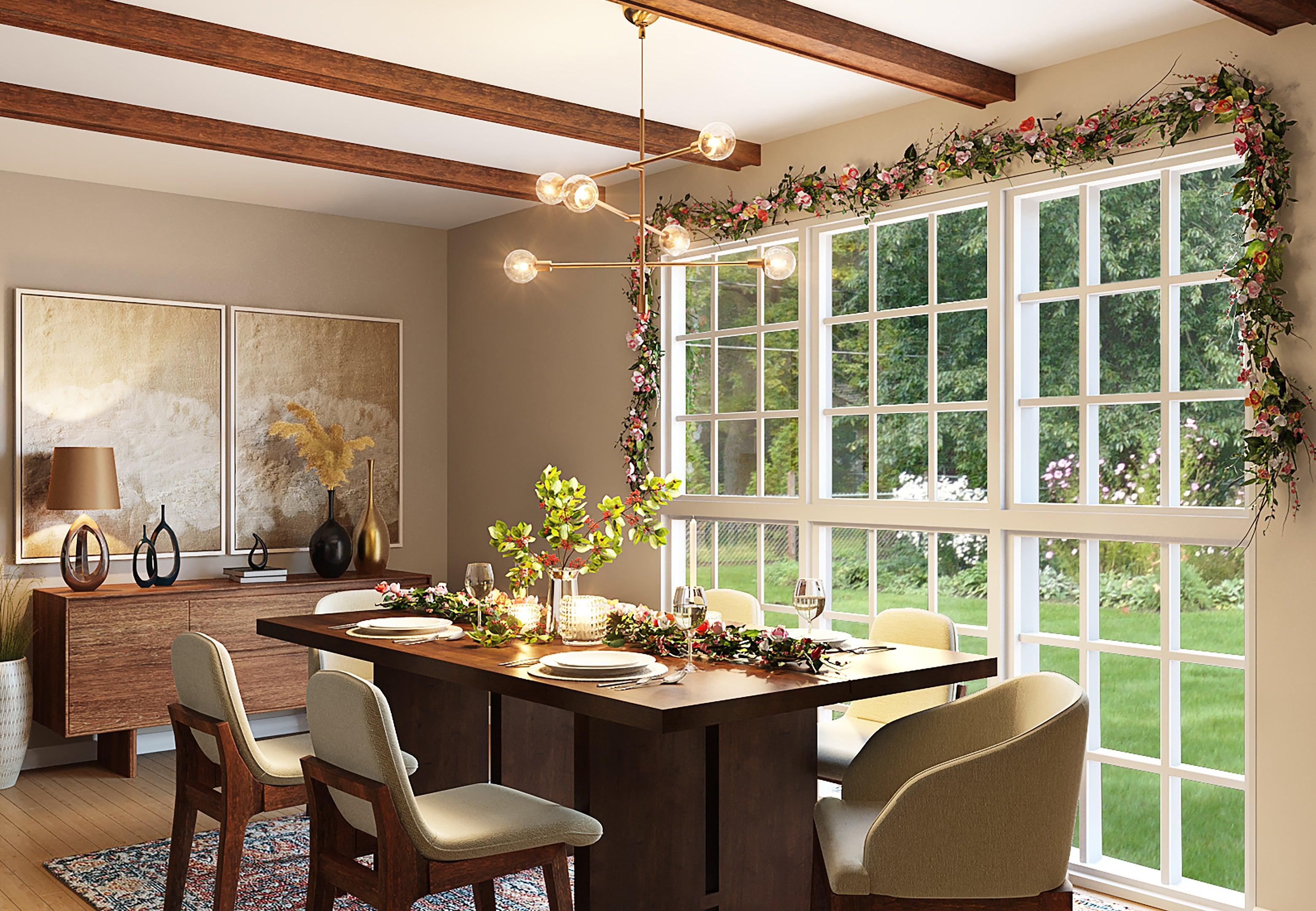 Stunning Lighting Ideas For Dining Rooms
The dining table in every house is a place of celebration for families to connect and bond over feasts. This space affects our moods and creates the ambiance and must be illuminated well to create a pleasant atmosphere.
The dining room serves many purposes, including dinner parties, informal meetings, and workspaces. You have to nail your dining room lighting ideas if you want your dining room to have all these different hats. 
Dining room lighting must accommodate all the various things you will be doing in the room, from working by task lighting to set the mood for formal dinners and parties with ambient lighting. For the space to work for any use at any time, you'll need to check off all three types of lighting - task, ambient, and accent. 
Make sure you have adequate lighting throughout to make the most of your home's available space and maximize its appeal. Dining rooms are usually found adjacent to the living room, where they are high-traffic areas where families and friends enjoy meals, which is why lighting them up appropriately is vital. Furthermore, well-lit environments enhance your space's functionality and make a positive impression on your guests.
We've compiled some of the most creative and valuable dining room lighting ideas to help you update your dining room.  Let's look at some ideas and light fixtures that can help you illuminate your dining rooms effortlessly.
SPOTLIGHT THE DINING TABLE
A dining table will always be the center of attention, whether in a separate room or part of an open-plan kitchen dining area. It's best to start your lighting scheme by hanging lighting directly above that point of focus, which will help to enhance that focus and provide the most practical illumination. 
People like to make a statement and have a feature above their dining tables by hanging decorative pendants. Decorative accessories or wall pictures can be highlighted by spotlights placed in the room to provide additional lighting.
It is important to note that pendant lights provide task and ambient lighting essential for dining parties when the rest of the room is only dimly lit. Pendant lights can also serve as accent lighting – surrounding the dining table in a pool of light, making them very effective at accent lighting.
CHANDELIERS
Lighting for your dining room does not necessarily have to be overwhelmingly bold. It will always look great if you prefer a more minimalist look while still wanting the illumination to be visible over a design with clear, clean lines.  To make the structure stand out against the background, pick a color contrasting with the walls and ceiling.
A contemporary chandelier highlights the neutral color palette and natural textures hung above the simple dining table.  
PENDANT LIGHTS 
Pendant lights provide a very stylish way of lighting your dining table. They are mounted on the ceiling like pendants. One can hang a single pendant light over a dining table to provide maximum lighting while hosting a gathering. However, several pendant lights can blur the background when eating alone or with another person.
You can use pendant lights in any dining room arrangement because they come in various colors, sizes, and shapes. Furthermore, they are affordable and can be adjusted according to your needs. There might be better options for you if your dining room has a low ceiling or you plan to light the entire room with them.
A cluster of pendants floating at the top of the dining table serves as a practical light source while your guests dine. One needs to create a focal point of drama in a dining room if the room's sole purpose is to be used for dining.
Going for an even number of lights above your dining table may appeal to you. It's much better to opt for odd numbers. By hanging your lights at varying heights, they'll also serve as multipurpose lighting, with low-hanging lights to provide adequate light as you work and higher-hanging lights to provide overall illumination.
Have fun with light fixtures and decor
You can always have fun with the decor of a dining room since these rooms are often used for special occasions and entertaining. Make your dining room quirky and unexpected by incorporating odd pieces that might overwhelm a living room.
Whether you choose a large chandelier, an art deco design, or a crystal chandelier, you can create a dramatic feel. Be sure of the practicality since it hangs above the table.  We suggest hanging it at least three feet from the table surface.
Experiment with Floor Lamps
A luxurious SLOF IC Floor Lamp can be a practical addition to a dining room's lighting scheme. Although Floor lamps are not usually the focus of dining room lighting ideas, they contribute a soft glow around the room's edges where other fixtures might not reach and ensure no harsh shadows are caused by direct overhead lighting. 
In addition to providing task or accent lighting, floor lamps are versatile enough to place anywhere in the room. They can even be moved around to highlight furniture like an occasional chair or a bar cart.
An effective lighting scheme in any room starts with layering so that different sources are positioned at different levels. So, ensure you keep experimenting with multiple light fixtures to create a brighter picture for a perfect dining room.