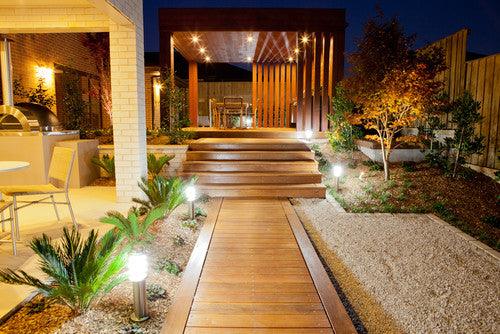 Best lighting hacks for summer
As the summer goes on in a full swing, many of us will spend time outside hosting backyard barbecues, pool parties, and relaxed evening get-togethers. Installing outdoor lighting for summer will help create a relaxing atmosphere around your home. Summer lighting not only improves the aesthetic and comfort of your home but can also improve its security. But, before you go out and buy new lighting to match the season, you can learn about some simple summer lighting hacks and tips from the pros. Our experts at Ankur Lighting have compiled a list of tips and product reviews to help you light up your beautiful home this summer! 
1. Make use of sunlight:
Why not use the sun for illumination if it's bright and sunny out? Instead of merely turning on indoor lights while blocking out the sun's rays, open your curtains and blinds to let in some extra light. Natural sunlight helps to brighten your home without using any energy from any lighting fixture, and it can automatically improve the look and feel of your home without any additional work! The sun is warmer and more comfortable in the morning. However, it becomes more neutral at noon.
2. Using yellow LED lights to keep bugs at bay.
Warm-coloured LEDs can attract fewer insects to your backyard. LEDs with a yellow hue attract the fewest insects, according to a study presented at the American Association for the Advancement of Science meeting. Throughout a summer, Ecologist Michael Justice and his team conducted the analysis using the six most widely purchased store-bought light bulbs. So, how about the weather? The atmosphere and the moon were also taken into account in the analysis to ensure that the findings were not skewed. In what order did the light bulbs catch the most insects? Incandescent bulbs captured the most insects, followed by CFLs, halogens, an LED with a cool colour temperature, and a "bug" glow.
3. Upgrade Your Light Switches to Dimmers
You do not need a lot of light depending on the time of day. Some light fixtures, however, are much too bright for certain activities. Fortunately, by upgrading your light switch to a dimmer, you can choose the appropriate amount of brightness for your lighting. Dimmers not only allow you to create the atmosphere you want with your lighting, but they can also save energy by not completely powering your lighting. Outdoor rooms, especially dining areas, benefit from subtle, indirect lighting that helps to create a relaxing atmosphere. Outdoor lanterns, pendants, and particularly ceiling fans outfitted with light kits are increasingly being used to illuminate seating and dining areas. With these fixtures, use a dimmer; use full light when cooking or preparing food, and dim it for eating and relaxing. 
4. Create a Specific Atmosphere
Retro lighting transports you back in time. Ankur Wooden Log Rope Hanging Vintage Chandelier is ideal for a chandelier over your dining table or a ceiling fixture over your bar. The exposed filament look combined with LED technology creates a retro look while saving money on your electric bill and being environmentally friendly. Using your artwork to build an atmosphere in your home is another choice. If you've found the ideal summer painting for your living room but aren't sure how to hang it, consider accent lighting. Accent lighting adds visual appeal to a room.
To layer your lighting, use LED bulbs such as our filament design in a one-of-a-kind layered glass sconce installed next to your art. 
5. Brighten Up Your Home's Pathways
Aside from comfort, protection is a vital consideration when it comes to summer lighting. We suggest using pathway lights to illuminate walkways leading to your home at night. As you will be able to see who is arriving at your house, this offers secure passages for family members or friends returning to your home late at night. This may also deter potential intruders since they are less likely to operate in well-lit areas.
6. Diversify your indoor lighting:
Pendant lights, in particular, add a surprising level of interior warmth to outdoor spaces since they would usually hang from a closed ceiling. They will provide plenty of light for a summer soiree or simply sipping iced tea on your couch!'
Here are some product recommendations for elevating your home's lighting in the summer!
1. Ankur 400mm LED Drum Pendant Light:
This light provides you with a diffused look to your home, which is perfect for the summer season! Ankur presents this LED Drum Pendant Light, which blends a timeless nature with cutting-edge LED technology. This magnificent light has a sleek design that will fit in seamlessly with any modern interior. It is made of high-quality aluminium, which is one of the best materials for LED light fittings with efficient heat control and a beautiful design.
2. Ankur 4-Way Round Outdoor Wall Light:
This light solves two problems in one go: summer bugs and security. Being a yellow-hued light helps it fight bugs and it provides you with a lighting fixture that illuminates your outdoor walls. When designing a house, exterior wall lighting is often ignored. However, with the round 4-way wall lights, you get a spectacular effect with minimal effort and without sacrificing space or other decor choices. The extremely comfortable design has a finished appearance and forms a four-way light, creating a designer effect with minimal effort. Your home will be a statement of tasteful beauty even before someone steps inside with this outdoor wall light. 
When it comes to outdoor lighting, it's all too easy to rely on the tried-and-true outdoor pathway or fixed wall sconces. However, there are several outdoor lighting options available these days that can give your outdoor spaces a comfortable and contemporary indoor feel.
Especially with the advent of summer where one needs to have a well-illuminated outdoor space to spend relaxed evenings with family and friends. We hope that these tips by our lighting experts at Ankur will help you illuminate and decorate your summer home!